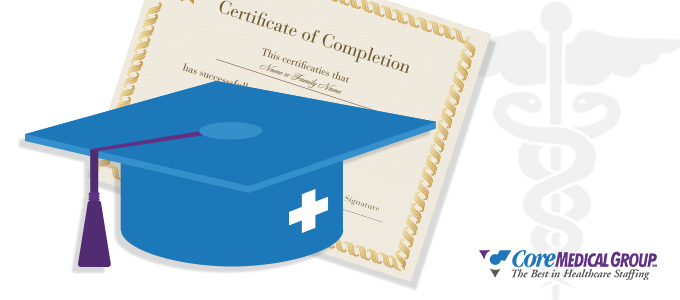 It's a recurring question we hear among nursing students: Why do I need to get licensed after graduating? Shouldn't my degree be enough?
Unfortunately for you, but fortunately for everyone else: No, your degree is not enough.
Why Licensing for Nurses is So Important
Nursing is a profession that can cause public harm if practiced incorrectly, which means it needs to be regulated by the government. Licensing is the process that makes that regulation possible. It's these regulations that help ensure only well-qualified, independently vetted nurses have the right to practice.
Nursing Degree vs. Nursing License
A degree proves you've met the educational requirements to practice nursing, but a license ensures compliance with certain predetermined standards, qualifications, and competencies established by each state's board of nurses (BON). Licensing requirements vary state-by-state, but all require a nurse pass the NCLEX exam.
RN or LPN? Licensing Regulates Job Titles
In addition to validating minimum competencies, licenses are also what state boards use to award and regulate the use of certain titles like Registered Nurse (RN), Vocational Nurse (VN), and Licensed Practical Nurse (LPN). These designations ensure that, for example, a nurse who completed schooling for an LPN degree can't, upon passing the NCLEX exam, take a job as an RN.
How to Get Licensed After Graduating
For nurses who plan to practice in their state of residence, getting licensed isn't a big deal. He or she must pass the NCLEX and apply through their state board of nursing for a license.
But for traveling nurses, the prospect of obtaining and maintaining licenses for each state in which they practice can be daunting. CoreMedical Group helps our travel nurses navigate the paperwork and process required to travel.
Maintaining a Nursing License
The good news is that once a nurse has passed the NCLEX board examination once, he or she does not need to take the re-take the exam to maintain licensing.
Regulations differ, but most states simply require a nurse renew his or her license every one to two years upon meeting certain standards set forth by the state nursing board.
The even better news is that licensed nurses in good standing who legally reside in compact states are automatically licensed to practice in any other party states. Nurses residing in non-compact states will need to go through the state licensure process which can differ from state to state.
Ready for Your Next Travel Nursing Assignment?
Have more questions about nurse licensing requirements or need assistance finding your next travel nursing assignments? Contact the healthcare staffing specialists at CoreMedical Group. We're here to help you find the nursing job of your dreams.