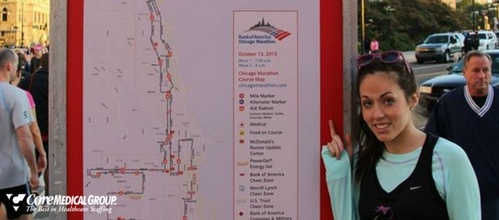 Michelle is a travel physical therapistwho has always enjoyed running. From sprints and hurdles as captain of her high school track team, to long distance running and marathons after college, it's always been her hobby. This summer when she realized she didn't have a race lined up to work towards, she decided to check out the New York City Marathon and join a charity team. That's when she discovered AKTIV Against Cancer and knew it was the perfect cause for her to support.
"They set up exercise units for cancer patients to use during their treatment to help combat the physical and mental side effects," Michelle explained. "This is what I do with my patients every day, so I really connected with this charity."
Michelle has been a physical therapist for six years and has spent four of those years traveling. She's currently based in the New England area, treating geriatric patients.
"I really like the flexibility of traveling, and meeting new people," said Michelle.
Her advice for physical therapists who may be interested in becoming a traveler is practical and simple.
"Do a year or two in a long term care facility before you start traveling, to gain the experience. And do it while you're young and you can go all over! My best friend has been all over – even to Hawaii and Alaska!"
Even working travel assignments, Michelle's been able to fit in a rigorous training schedule to prepare for New York, which will be her second marathon. In 2013 she ran the Chicago Marathon, with the goal of just finishing the race and not injuring herself. She's taking that same approach this time around, building up her strength and endurance through multiple weekly runs.
She's part of a local running group, which helps keep her motivated and gives her a chance to work on track running and trails with other runners. Her long runs she handles on her own, getting up early in the morning all summer to run with a headlamp on, before the heat of the day kicked in!
"I've always been involved in charities and volunteer work. I like fundraising and helping people," she said. "It's what pushes me to finish and do it – it gives me the major motivation to finish."
AKTIV Against Cancer has partnered with the Memorial Sloan Kettering Cancer Center in New York City to conduct research into the effects of exercise on cancer patients here in the United States. If Michelle raises over $5,000 for the charity as part of their marathon team, she'll have the opportunity to meet some of the people behind the organization and tour their research facilities. To donate to her, visit https://www.crowdrise.com/aktivnyc2016/fundraiser/michellelandry1.
To learn more about becoming a travel physical therapist, contact one of our recruiters today!