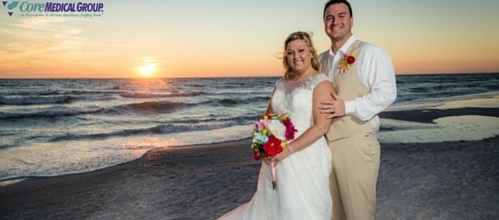 Jade began her career as a travel nurse because she always felt that there was something more for her beyond the small town where she grew up. Travel nursing gave her the perfect opportunity to leave her tiny hometown and see what the world had in store. She never imagined just how much her life would change on her very first travel assignment, where she met the man who would become her husband and travel partner!
A nurse for almost five years now, Jade first considered branching out into travel nursing when travel nurses came to work on the unit where she was on staff. She decided to take the leap and go on her first travel assignment after talking to those nurses and learning about their experiences.
Not wanting to go too far from her family for her first assignment, she ended up at a hospital in Roanoke, Virginia, about four hours from her hometown. It was there that she met and started dating Wynn. They hit it off and she continued to extend her contract, staying in Roanoke with him for a year.
After a year though, Jade decided it was time for another adventure. She wanted to continue to travel and see other parts of the country. And Wynn decided to go too!
"I told him I wanted to keep traveling, so he sold everything to move to Florida with me," she said.
It was there that they got engaged, and after another assignment that brought them to Ohio, Jade and Wynn made their way back to Florida and were married on the beach in March 2016.
"Florida has been our favorite so far. We love the water and the beach, and there are so many things to do," she explained. "And we especially love the warmth!"
Jade and Wynn plan to continue traveling together, and she encourages anyone who is interested to give it a shot.
"Take the plunge and do it – you only live once!" she said. "It's a great opportunity, so go for it. I don't regret one bit of it."
Her favorite part of traveling, and the medical field, is that it's constantly changing and evolving.
"I learn something new every day. I get to see how everyone does it, different techniques and ways to do things," she explained. "You're not ever going to know everything. It's been a really good experience."
If you're interested in exploring a career as a travel nurse, contact one of our recruiters today!