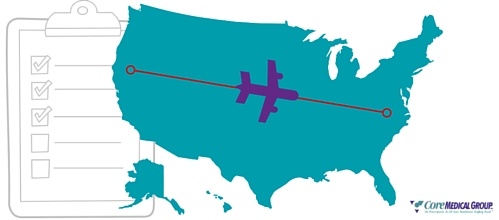 Mary is a registered nurse who has always had one major goal: visit all 50 states. And this month, she can finally check that item off her bucket list! After four years in the Coast Guard and seven years as a travel nurse, Mary was finally able to spend some time in every single state – and not just with a layover in the airport!
Mary has worked with CoreMedical Group for five years now, completing 24 assignments across the country. For the last nine months, Mary has been working with her recruiter Lori to finish up her list and find openings in the last few states that she needed to visit – Vermont, Arkansas, North Carolina, and South Carolina.
"I think I saved the best for last," said Mary. "On assignment in North Carolina, I was able to plan a visit to the USS Yorktown, where my dad was stationed during World War II. He has passed, so it was my way of visiting him again."
Mary credits her dad with her love of travel. He inspired all of his children with what Mary calls "wanderlust." Both of her brothers have also traveled the country, one of them making it to through the lower 48 states, and the other hitting all 50 last year.
When folks ask "What's your favorite place?" it's hard for her to choose just one. She loves how unique each place has been – both for traveling and for nursing assignments.
"You cannot compare the beauty of a desert landscape to that of snow capped glaciers. The same goes for every new assignment I take. Every place has lessons to be learned, a new perspective, and new people to meet. These are the things that make all of us and each place unique in its own way."
One way that Mary's been able to learn so much as she travels is by exploring roadside attractions, festivals, and museums to learn more about the history and culture of each place.
In addition to traveling the United States, travel nursing has also given Mary the chance to explore other countries as well. She's been on weekend trips to Canada and dreams of someday staying in an ice hotel in Quebec. She even went on her dream trip to Ireland for 11 days.
"I love that I have the ability to ask for adequate time off to go see the world. I am not constrained by the number of hours of accrued PTO or the ability of the hospital to let you go away for that long. I get to ask for time off written into the contract, or I can just plan to not be on contract during that time," she explained.
She's also been to Mexico many times – including four of Core's Club CoreMed trips! She loves going on the Club CoreMed trip to visit with her recruiter Lori, other staff, and other travelers.
"What other company affords you the opportunity to rub elbows with your favorite recruiter in a tropical paradise? What's even more rare than meeting your recruiter is meeting the president. I think it's neat that he comes out every year to hang out with us," she said.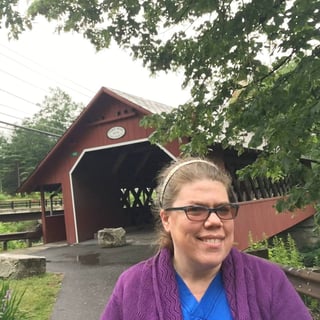 And now that Mary has checked off "Visit all 50 states" from her bucket list, she can move on to her next project.
"I want to see what Clark Griswald did not – the world's largest ball of twine in Cawker City, Kansas!"
If you're interested in traveling the country as a travel nurse, contact one of our recruiters today!