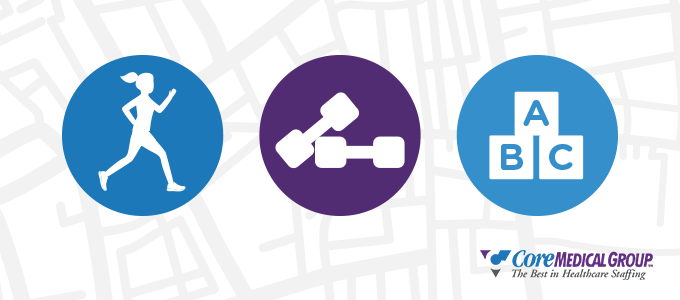 So you have a friend who's a traveling nurse. She loves it, right? A challenging, rewarding career in healthcare that also includes travel? Her Instagram and Facebook posts alone are enough to make you envious, nevermind the stories she tells.
But did you know that there are loads of travel positions for therapists and other allied health professionals too?
Travel Jobs in Allied Health
It's true. There are thousands of travel assignments available across the United States for physical therapists, occupational therapists, and speech language pathologists, as well as PTAs and OTAs.
In fact, healthcare is one of the fastest growing occupations in the country, with the Bureau of Labor Statistics predicting a 19 percent increase in the next ten years. That's about 2.3 million new jobs.
Some of those jobs will be permanent positions, but some will be temporary contract positions, filled by—you guessed it—traveling allied health professionals.
The Details
A typical contract for these positions lasts 13-26 weeks. As a traveling physical therapist, occupational therapist, or any other traveling allied health professional, you can accept the positions that you want, where and when you want them.
The requirements may vary, depending on your specialization, but most are directly in line with the requirements you met to begin your career in allied health in the first place.
The difference is, if you're looking to take travel positions in states other than the one where you are currently licensed, you'll need to be licensed in those states as well. While some states offer temporary practice permits that take only a few days to obtain, other states can have more a lengthy process, so you'll want to check on the requirements before accepting a contract position.
Your staffing company or recruiter should be able to help you out with all that, in addition to helping you find the right jobs at the right times.
The Lifestyle
Traveling healthcare positions are perfect for people who love their career and have a penchant for travel. Imagine getting the chance to experience an entirely new place every few months, and still maintain regular work with competitive wages. Sounds great, doesn't it?
Travel expenses and housing arrangements are generally included in temporary contracts, so you don't need to worry about that. And travel healthcare professionals are hired to places where there is a strong need, so you're walking in to a work environment where people will be relieved to have you.
You also have the chance to work in a variety of different facilities, from hospitals to clinics to outpatient rehabilitation centers and even schools.
Interested in learning more? Right now, CoreMedical Group has hundreds of travel job openings for allied health professionals (and yes, nurses too). We offer great benefits to our travelers, including access to free online CEUs, day 1 insurance, pet insurance, and the ability to earn a free trip to the Caribbean every year!
Want to learn more about becoming a traveling PT? Contact one of our dedicated physical therapy travel recruiters at 800-995-2673 or info@coremedicalgroup.com!