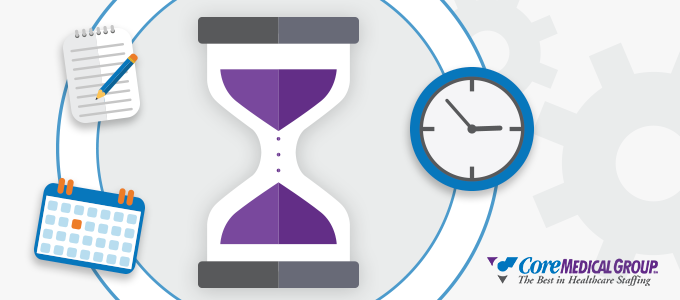 Time management is one of those things that everyone realizes the value of, but not everyone is able to really put into practice—particularly in a busy field like healthcare administration. Twenty-four hours a day just doesn't seem like enough sometimes, and that's why practical tips for time management are important.
Here we've explained a few of our favorite time management tips for healthcare managers and administrators:
Utilize Available Tools
Healthcare is experiencing an amazing technological revolution, and many of the new tools becoming available to hospitals and healthcare administrators are designed, at least in part, to aid in efficiency. Staying up-to-date on your facility's EHR and its capabilities is obviously important for patient care and general administration reasons, but there may also be areas of the system that can assist you in your day-to-day tasks.
Create a Priority List
We know, it sounds like we just gave you one more thing to do, but setting priorities is a huge part of time management and writing them down can help ensure you don't get distracted by other tasks throughout the day.
Of course there are urgent situations that arise—especially for healthcare professionals—that will need to push other items off the list, but that's what makes setting priorities among your other tasks so important. General management responsibilities or logistical items can easily get pushed off your plate by pressing patient care issues or the myriad of other things that can happen in a hospital or healthcare facility. Maintaining a priority list for those items can help you not only keep track of the tasks that need to be completed, but manage your time so you're not trying to do them all at once at the end of the day.
Schedule Time for Yourself
Scheduling breaks, even five or ten minutes at a time, can actually help you get more work done during the day. How are you getting more work done if you're taking breaks? By avoiding the unintended drag and distraction that comes from working too hard, for too long, without one. Studies show that taking a break once an hour can increase productivity.
Delegate When You Can
There are obviously a lot of responsibilities you can't hand off to others, so it's even more important to delegate whenever it is possible. If you know you're the sort of person who has a tough time letting go of tasks, this is a good time to use that priority list we talked about before to determine which items you need to be involved in, and which tasks could probably be completed by someone else on your staff.
You also may want to consider outsourcing for certain areas, like staffing. Working with a qualified staffing company can save you an incredible amount of time and stress, and ensure that your facility doesn't experience the staffing shortages that can impact overall efficiency and patient care.
If that sounds like something your facillity needs, get in touch with one of our placement specialists today.