Gaming is a multi-billion dollar industry and a highly valued occupation by many current and future OT clients, and there are endless benefits to implementing therapeutic gaming into practice. Not only has therapeutic gaming proven to increase client outcomes due to the engaging and enjoyable nature of video games (which often facilitates longer activity tolerance), gaming also has a multitude of mental health and social participation benefits. A failure to acclimate ourselves to how we can help our clients engage in this meaningful occupation can often mean a failure to provide client-centered care. However, creating accessible solutions is not always easy.
Without a foundational knowledge of how to alter wiring and hack controllers, there are not many options for OT clients as gaming with a standard controller can prove difficult for someone with mobility impairments. Enter the Xbox Adaptive Controller – a tool that makes creating accessible controllers easy for both you and your clients. This article will talk about how to use the controller, and why it's an important tool for your clients interested in gaming.
The Challenge
Think about the activity and mobility demands of using a standard controller. You need at least:
Two hands to hold the controller itself
Two thumbs with ample oppositional range of motion to operate:

The joysticks
The A, B, X, and Y buttons

Two index fingers to hit the triggers and bumpers
The coordination and endurance to continuously engage in fine motor movements for extended periods of time in order to find success in gameplay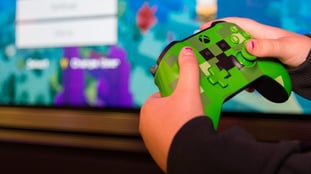 Think of the diagnoses and conditions that may affect one's ability to engage in these types of movements: spinal cord injury, arthritis, cerebral palsy (CP), amputations, congenital malformations of the upper extremity— just to name a few. Whether it's a teenager with a recent spinal cord injury who used to play video games with his friends every night or a 9-year-old with CP who has never "gamed" before – having a means to game for both leisure and therapy can provide a number of benefits.
The Solution: The Xbox Adaptive Controller
Implementing gaming into your therapeutic practice just got easier and more effective thanks to the Xbox Adaptive Controller (XAC). The Xbox Adaptive Controller is a hub that allows one to replace any button, joystick, or trigger found on a traditional controller with a large switch or joystick that is easier to access. It has nineteen 3.5mm ports (think headphone jack/AUX port equivalent) and two USB ports.
The 3.5mm ports allow one to take a switch button, plug it into the "A button" port, and change the traditional "A button" found on a standard controller from a four to five-millimeter wide button, to a one to six-inch-wide button! This can be done for every button on the controller. It's simple and allows therapists and gamers alike to create custom controller setups that facilitate access without having any knowledge of how to rewire buttons. Instead, it's simply plug and play.
How the XAC is Changing the Game
Enter Player 1: Going Solo
Our client with a spinal cord injury uses an oversized button plugged into the "right trigger" port, which typically serves as the "accelerate" button for racing games. Another large button is plugged into the "left trigger" port to serve as the new "brake" button. A mounted joystick allows him to steer the car with a single finger as opposed to having to hold the entire controller and steer with his thumb (something he cannot do). The beauty of the XAC is not only the new ease of access due to button size but also the opportunity to place buttons in more accessible spatial positions for the client.
The XAC's Impact on Therapeutic Gaming
Use of the XAC can fall into two categories:
Making gaming as easy as possible to facilitate play
Making gaming challenging, yet engaging for therapeutic purposes
In order to create a challenge for your clients, you can try putting two buttons on a table that they have to hit. If they are set far enough apart, they can help to work on balance, weight shifting, and standing tolerance while they play. You might put a button behind the client's back in order to facilitate external rotation, or place the button far in front of them to facilitate trunk and shoulder flexion and extension. No matter the exercise, the client is engaging in their favorite occupation: gaming, all while experiencing therapeutic outcomes and gains. Making gaming harder in a rehab setting can often be the precursor to accessibility in gameplay after discharge. The XAC also creates an opportunity for you to help with certain challenges.
Warfighter Engaged explores the clinical application and therapeutic implications for the Xbox adaptive controller.
Enter Player 2: Copilot
Sometimes it's just not possible to find a solution for every client to play individually. There may be too many buttons or controls needed for proper gameplay. Copilot is a feature that allows two people, holding two different controllers, to control the same character.
Copilot is great for therapeutic grading of activity! When playing a first-person shooter game, the cognitive and/or physical demands of accessing all buttons can be difficult. Walking, adjusting the camera angle, jumping, throwing grenades, shooting a gun, changing weapons, and ducking are all controlled by separate buttons. That is a lot of switches that need to be accessed almost simultaneously. However, you do not want to tell your client, who is already experiencing low motivation, that they can no longer play their favorite game. With Copilot, you can use a standard controller in order to assist the client with some of these functions.
"With the Xbox Adaptive Controller, gaming is no longer about what someone is unable to do, it's about what functions and movements they can perform and further developing those motions."
With the XAC, Copilot can take many forms, but it may look like this: with your own controller you can steer the character, jump, and handle all of the controls except for shooting. The client is instructed that whenever a "bad guy" pops up on the screen they must press the single button in front of them that is assigned to "shoot." They can now engage with fewer physical and cognitive demands burdening their success.
In this situation, the client may be working on wrist flexion and extension by pressing the button repeatedly; perhaps they are working on cognitive processing, visual scanning, etc. As the client progresses through therapy, they can slowly be given more buttons and tasks to perform. Keep in mind that you can serve as a great copilot to your client, but you can also incorporate family members as well!
Other Uses in Therapy
Some of the other benefits of gaming with the Xbox Adaptive Controller extend beyond improving mobility. Social participation and leisure exploration are equally important in client-centered care. Unlike pieces of assistive technology that are often clunky and look like "medical devices," the Xbox Adaptive Controller is aesthetically pleasing and looks as though it fits right in with the rest of the Xbox controller family.
This is important in creating a sense of normalcy and promoting the desire to engage in gaming socially for clients. The social participation aspect of gaming alone also provides a multitude of mental health benefits. Whether the client plays with friends, family, or you (rapport building!), social interaction is an important aspect of recovery.
Another benefit of the controller again lies in its versatility. Once therapy is complete, the satisfaction a player receives in being able to choose their own buttons, place them, and ultimately create their own success, provides an additional layer of satisfaction and improvement in mental health through gaming. The notion of "I created this gaming rig for myself, and now I have facilitated my own play" is a powerful moment for a gamer following injury.
Some Assembly Required
XAC Peripherals and Switches
Choosing which peripherals and switches you will need to facilitate success is half the battle. Some hospitals and clinics may already have switch buttons. If not, they can be costly. Further, there is a multitude of resources available for acquiring peripherals. It is best to have an arsenal of switches that you can test with different clients. If one does not work, unplug it and try another. Switching these around in combination with the Copilot feature works well if you have a client who can use half or most of a normal controller and may only need a few externalized buttons.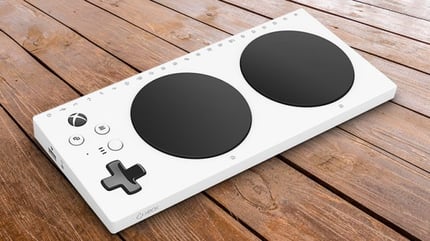 Here is a list of resources that create and sell buttons, joysticks, and more.
Any switch or button with a 3.5 mm input will work! In fact, plugging a pair of headphones into the jack and pressing the volume up or volume down buttons can work, so don't be afraid to get creative if needed! The 3.5 mm ports are very simple and have low standards for activation. The USB ports, on the other hand, that are often used for joysticks, are more selective in what peripherals will work. A mouse and keyboard will not work on the XAC, nor will joysticks that emulate signals used on a mouse and keyboard. What does that mean? Before you buy, make sure you do your homework to ensure that the products you are buying are XAC compatible. The resources on the list above are generally all compatible.
Mounting in space
While choosing the switches needed for your arsenal is the first half of the battle, knowing where to put the switches in space to facilitate success is the other half. This is where our activity analysis skills come into play. Let's say a client has gross shoulder and elbow movement but no fine motor. With that in mind, you can place two buttons on either side of their forearm for access. What if a client has no movement from the neck down? Head activated buttons and mouth controllers like the Quadstick might work for them!
Think about the options for foot-only play, unilateral play, etc. With the Xbox Adaptive Controller, gaming is no longer about what someone is unable to do, it's about what functions and movements they can perform and further developing those motions. If a client does not have a hand, perhaps they have use of their legs—let's put switches there! There are so many possibilities. This can make things difficult but also provides more opportunities for success, innovation, and problem-solving using our activity analysis skills.
Mounting Resources
Some common methods for securing switches in places include lap boards, Dycem, Velcro, and various types of mounts – all of which can be found easily online!
Additional XAC Resources
Ultimately, everyone should be able to game and have fun. Gaming is both a therapeutic means and can easily be the client's end goal. We must be ready to help clients find success in both scenarios, and the Xbox Adaptive Controller has made it that much easier.