In a recent article (
Student Loan Strategies for Physical Therapists, Part 1
), we discussed important considerations to make when considering which school to attend, where to live, and how much money to borrow for your education. If possible, it's best to consider repayment options while you are contemplating how much to borrow. However, everything becomes far more real once graduation comes and your first payment is due. While the numbers can seem overwhelming, it's simple to break down your options and create a game plan for your student loan repayment options.
Imagine a hypothetical loan figure of $100,000. It's up to you to run the numbers for your own situation, and you can always contact a financial specialist who has expertise in making financial plans for physical therapists!
First, determine whether your loans are federal or private, as that can make a big difference in choosing the best repayment options. It's a good idea to list out your debts, interest rates, and loan terms. We'll use a simplified version for our sample:
| | | | | | |
| --- | --- | --- | --- | --- | --- |
| Loan Amount | Servicer | Rate | Other considerations | | |
| $80,000 | Federal | 6.8% | eligible for federal repayment programs | | |
| $20,000 | Discover | 12% | not eligible for federal programs | | |
Federal loans:
Graduate school loans are typically unsubsidized, which means that the borrower pays all interest charges.
You may have subsidized loans from undergraduate education. These loans are slightly better because the government pays the interest while you are still in school or during authorized deferment periods.
Federal loans are often eligible for various loan forgiveness programs, including Public Service Loan Forgiveness (PSLF).
These loans offer benefits such as eligibility for deferment, forbearance, and other loan repayment options, based on life circumstances and income levels.
Typically, these loans are offered at a fixed interest rate of 6.8%.
Private loans:
Terms and interest rates will vary depending on your lender. They often carry higher interest rates than federal loans.
Typically, private loans are not eligible for PSLF and other federal forgiveness programs.
Credit card debt:
This type of debt is usually at a high-interest rate, often up to 20%. It's best to avoid putting living expenses on a credit card, as the costs will accrue quite rapidly.
Some people may accrue consumer debt via personal loans or credit cards while in school to pay for living expenses. While this is not technically a student loan, it's vital to consider all debt you possess as you create your repayment strategy.
Other loans:
Do you have loans from friends or family, car loans, mortgages, personal loans, HELOCs? This is a good time to account for all of your debt obligations as you make a solid plan.
Now that you know how much you owe, the next step is to figure out how to pay it back! Generally, there are two options for dealing with student loan debt: pay it back, or have the debt forgiven.
Repayment options for physical therapy student loans
Let's look at several repayment options. For federal loans, this
government website
has lots of helpful tools you can use to make the best decision.
Standard repayment term: For federal loans, the standard repayment term is up to 10 years, with a fixed payment per month.
Extended repayment terms: There are terms offered with 25-year repayment. Keep in mind that you will pay more in interest over time.
Income-Driven Repayment. For these options, you will pay 10-15% of your "discretionary income" every month toward your loans. Discretionary income is calculated as the amount of your adjusted gross income (AGI) above 150% of the poverty level for your specific household size. There are several options as noted in the screenshots below, including Income-Based Repayment (IBR), Pay As You Earn (PAYE), and Revised Pay As You Earn (REPAYE).
Quick definition stop: Adjusted Gross Income is your gross income after deductions like pre-tax retirement savings and healthcare premiums have been subtracted. For this reason, it can make sense to maximize pre-tax retirement savings as much as you can if you are using an IBR plan.
Let's look at the sample scenario listed above with a variety of repayment options using the federal student loan estimator: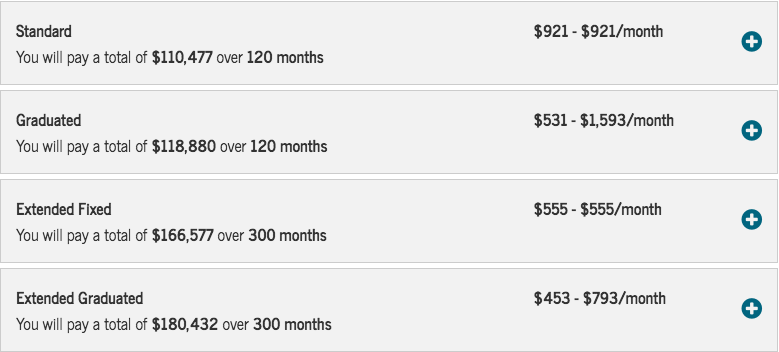 With these standard plans, the Standard repayment option will cost the least over the lifetime of repaying the loan. But the monthly payment is also the highest and could be tight on a starting PT salary.
What about Income-Driven Plans?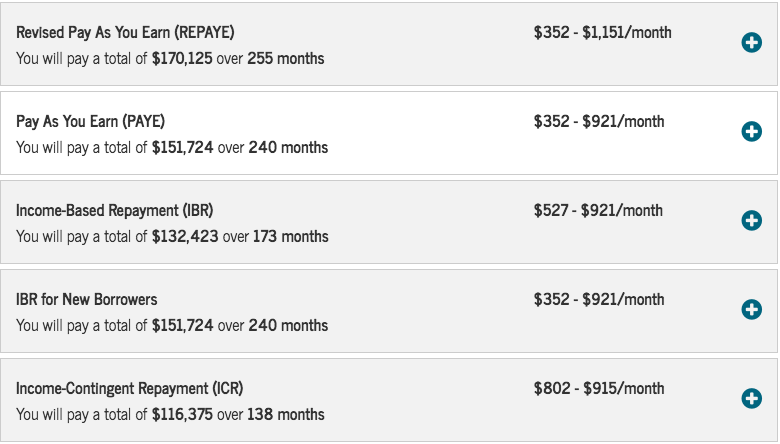 These plans can lower your monthly payments significantly but increase the overall amount paid over the life of the loan. With the income-driven plans, the remaining balance after 20 or 25 years of payments will be forgiven, which is great news, right? In many situations, yes! But keep in mind that the amount forgiven will typically be taxable as income, which can result in a large tax bill. If you choose this plan, it is advisable to save for the resulting taxes starting now!
Does this all seem overwhelming? If so, you could benefit from software or a personal advisor who can look at your specific situation.
FitBUX
is a company offering its software free to physical therapists. Enter your education, assets, and debts, and they can help generate your best option.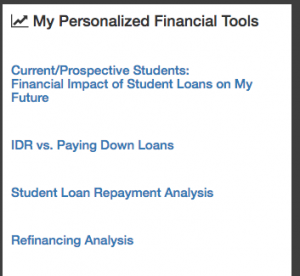 Forgiveness program for physical therapy student loans
If the above options seem out of reach, you can consider loan forgiveness options.
Public Service Loan Forgiveness is the most commonly used program by PTs. With this program, working 10 years for any qualifying employer and making 120 payments toward your loans can qualify you for the forgiveness of the remaining loan balance! Government employers, such as the VA, count toward this requirement, as well as any non-profit 501(c)(3) organizations. Many hospitals have 501(c)(3) status, which means that there are many jobs available for PTs that would qualify.
Unlike loan forgiveness that occurs after 25 years with other income-driven programs, PSLF is not taxable!
If you choose PSLF, remember that only Direct Federal Loans qualify. You can consolidate your other types of federal loans to a Direct Consolidation Loan, but make sure that you read all of the considerations for your situation. Private loans are not eligible.
If using PSLF, an income-based repayment program is likely to be the most beneficial for you, as it will lead to the highest amount forgiven after 10 years.
To lower your payment amount, consider strategies to lower your AGI, such as contributing to an HSA account or 403 (b) retirement savings account that may be available through your employer.
Of course, going this route may limit your income, as you may be able to make more money at a private employer than a non-profit. This is another situation where it is important to run the numbers for your situation!
Going this route also requires some faith in the system, and that the government will not change the forgiveness options prior to the 10-year forgiveness date.
Opportunities in the VA System: These options may or may not be available, so inquire about them when applying for a job.
Education Debt Reduction Plan: This program offers debt payments up to $24,000 per year, up to $120,000 total over 5 years, for direct patient care providers in positions that are deemed "hard to fill."
VA Student Loan Repayment Program: Offers up to $60,000 total ($10,000 per year) toward loan repayment for providers in select occupations.
The APTA has a good list of other forgiveness opportunities that may be available, including opportunities working in the Indian Health Service, National Institutes of Health (research positions), or the Faculty Loan Repayment Program.
Certain private employers also offer forgiveness opportunities. For example, Health South, which owns a large network of inpatient rehabilitation hospitals, home health facilities, and outpatient clinics, offers up to $10,000 in loan forgiveness in exchange for a two-year work commitment. As you look for jobs in your area, make sure to inquire about any available opportunities!
What about private loans?
The forgiveness and repayment opportunities discussed above work well if you have primarily federal loans. But many PT students turn to private loans for some of the financing for school. These loans can have widely varying rates and terms, so make sure to look up your specific loan details. The best option for dealing with these loans, along with credit card debt, is typically to make extra payments toward the debt with the highest interest rate first. Another option is to refinance to a lower interest rate.
Refinancing
With private student loan rates that are often higher than federal student loan rates, interest can add up quickly. It may make sense to consider refinancing your loans if you have a good credit score and income. For example, in our example above, with $80,000 at 6.8% interest and $20,000 at 12% interest, refinancing the whole sum to a 4% fixed rate could save a significant amount, as shown by this analysis from FitBUX: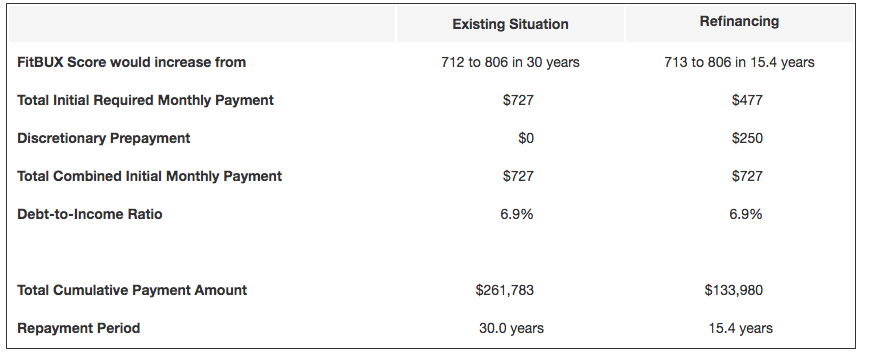 In this case, refinancing but continuing to pay the same monthly payment could save $127,000 and cut the repayment time almost in half! If you have decided not to pursue a forgiveness program like PSLF, refinancing might make a lot of sense.
Your refinance rate will in large part depend on your credit score and income. If you're interested in refinancing, our partners at Credible have a free tool that lets you compare actual rates from up to 10 lenders (without affecting your credit score!). You can also scroll to the bottom of this article to give it a whirl.
Options to increase funds for debt repayment
Obviously, the more money you can throw toward debt, the faster it will be gone. So how do you get more money? It's pretty simple, make more or spend less.
Make More:
Work per diem at an additional job on the weekend or evenings. As physical therapists, we have the advantage of being able to easily pick up extra hours at a high hourly rate.
Choose a higher-paying job if necessary. Again, weigh the potential benefits of the jobs available to you--which ones make you eligible for PSLF vs offering a higher wage?
Spend Less:
Use a budget to track all of your income and expenses. By tracking your expenses, you may find areas that you can cut without sacrificing your quality of life.
While cutting out Starbucks runs and packing your own lunches can make a difference, consider items like your housing and car choices. Buying a used versus new car could make a big difference in loan repayment once you redirect those funds to your loans.
Looking for more ways to save? Compare student loan refinancing rates with this tool from our partners at Credible.
When you dream of your life as a physical therapist, what do you see? Is it early retirement? Opening your own practice? Traveling? When it comes down to it, your goals and values should determine how you earn, spend, and save money.
For tips and tricks, press the link below to instantly download the Personal Finance Basics for PTs.