You carried a backpack through middle school, high school, and college; how could your PT school backpack be any different? Here are a few things I keep on hand so I'm always prepared.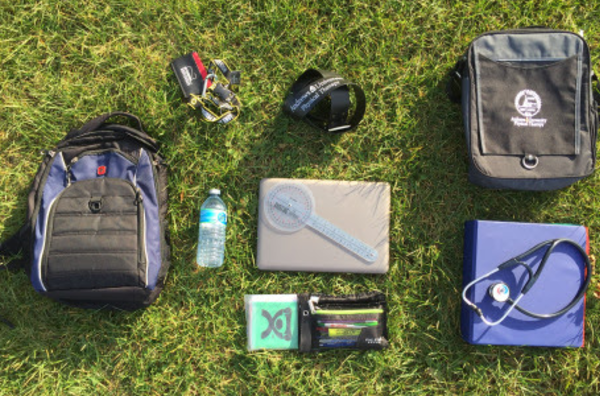 The bag
You don't have to get fancy. If you commute and then spend all day at school, you may want a bigger bag to take all of your things with you. However, if you live on campus, you may be able to get away with a smaller choice.
I use a Swiss Gear backpack. It is extremely durable, comfortable, and has a lot of storage space. A backpack with many pockets and sections is the best for me. It allows me to keep as many essentials as I need while also helping me stay organized. I can separate my laptop from my binders and notebooks, while still having space to fit my packed lunch. My bag allows me to have smaller pockets for items like my keys, pencils, wallet, gum, and of course, snacks. Also, pouches for water bottles are essential in a bag; it's important to stay hydrated all day.
As physical therapy students, we all know the importance of ergonomics. Find a bag that has wide straps and fits your body well.
Laptop
My MacBook Pro is an absolute everyday essential for me. Almost all classes have some sort of online component so it is very challenging to go without a laptop or tablet. My snap-on case keeps it protected from wear and tear when traveling, going to and from classes, or just being too aggressive. Always keep a charger handy as well, especially if you live far from campus. The last thing you want is a laptop or iPad on 8% while you're trying to email your pediatrics case study to your professor.
On my laptop I use a few essential resources:
The go-to anatomy app for personal studying or clinical explanations to family, friends, and patients
The iPhone & Android equivalent is Essential Anatomy.
E-books
Personal reading and textbooks
E-books are a great way to reduce the weight carried in my bag and keep everything as organized as possible
Google Docs & OneNote
Useful tools my classmates and I use to collaborate on projects and review documents
Microsoft Word
There are many equivalents to Word, but you can never go wrong with a classic
Dropbox
An online service for sharing large files with classmates
GoToMeeting
This is a way I keep track of online courses like Smart Success PT and Paul Gough's PT Profit Academy
EndNote X7
This was very useful for my 3rd-year CAPStone Research Thesis (Professional Behaviors: Correlation to Clinical Performance)
Great way to share files, research articles, literature reviews, and much more with my research chair and group members
Statistical Package for the Social Sciences (SPSS)
Software used to collect and process data for my research project
I use this Google Chrome plug-in for daily reminders, inspiration, and positivity every time I open a new tab
Textbooks
I use a few essential textbooks when needed, but I prefer eTextbooks. E-books are a great way to lighten the load on my back and they help me keep everything as organized as possible. Most e-books cost less as well, so if you're looking to pinch pennies e-books may be the way to go.
Phone
C'mon now, you're probably reading this on your phone. Need I say more? Are you team iPhone, Android, or are you using another brand? Comment below!
Clinical supplies
We know not the day nor the hour! You never know when your teachers will spring a pop quiz where you need to measure hip flexion or ambulate a "hemiplegic". Upon orientation, my school gave each of the students a clinical case with tools for PT school and beyond.
Keeping the following tools on hand will always have you prepared.
Gait belt
Goniometer
Stethoscope and sphygmomanometer
Stopwatch
Therabands
Tape measure
Reflex hammer
You may not need to keep these in your bag at all times, but having them on hand in the PT building is always a lifesaver for me.
Hand sanitizer
Keeping your hands clean is key when you're always in close proximity to your classmates. This is especially important after performing ankle mobs, the clonus test, or practicing lymphatic drainage.
Hand sanitizer is also a lifesaver during flu season. The cold, flu and other contagious illnesses can spread like wildfire when you are in a closed environment all day with your favorite group of people.
Lotion
All that hand washing, hand sanitizer usage, and formaldehyde in cadaver lab can do some damage to your hands. Keep a small bottle of lotion in your backpack to stay comfortable throughout the day. Your ortho lab partner and future patients will also appreciate smooth hands during manual therapy.
Writing utensils
Just like it is hard to eat food without a fork, it's hard to gain and retain knowledge without a pen. If you prefer taking notes on a laptop or tablet, you may want to invest in a good stylus compatible with your device.
It is useful to have these at all times. Underline, circle, color code--do everything you can to have the best notes possible to study from. Come test time, you'll thank yourself.
Planner/Calendar/Sticky notes
With numerous intense classes, it is essential to stay organized and manage your time wisely. A planner, calendar, or even post-its are a great way to stay on top of assignments and tests. I use a whiteboard calendar in my apartment to keep track of the upcoming month's exams, quizzes, and assignments. I use the Stickies app and Momentum on my laptop to write short reminders for the day.
Notebooks and binders
For more traditional students, the old-fashioned notebook is still one of the best tools. Pen and paper are tried and true and are still preferred by many.
My PT school, in particular, gives a lot of PowerPoint handouts. Using a binder and 6 dividers is a great way for me to keep all of my class notes and handouts organized in one place.
Headphones/Earphones
PT school is a grueling program with intense semesters and long hard days. Always keep a pair of earphones handy for when you want to get away.
Snacks
Did you leave your house late and didn't get a chance to eat breakfast? Keep snacks in your backpack and never go hungry. These are some of the snacks I love to keep in my bag: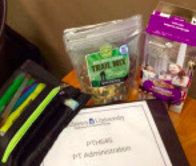 Trail mix (my favorite is Planter's Peanut Butter Chocolate Trail Mix)
Cookies
Granola bars
Dried mangoes
Fruit (strawberries, oranges, and bananas are not only delicious and nutritious but can last throughout the long day on campus)
Popcorn
Yogurt

Water
Water is vital for all bodily functions, especially for learning. The brain is well over 70% water. Water gives life to the electrical energy for all brain functions. Stay hydrated throughout the day.
Tissue
I get bad allergies and always sneeze in class. If you're in the same situation, a to-go pack of Kleenex is a good item to have. If you're feeling really gracious, buy a box for your classroom; your classmates may need some to wipe their tears after the latest Neuro exam.
Shorts and a tank top
I keep shorts and a t-shirt in my locker on campus. You don't want to do a Thomas test with jeans on or test the dermatomes while wearing a dress shirt. Keep shorts and a tank top around to make everyone's lives easier.
Lacrosse/Tennis/Golf ball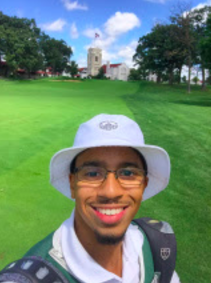 For a profession full of movement experts, PT school sure does make us sit a lot! Fortunately, you're in the PT building, therefore you may not have to look far for tools to "release" your "tight" muscles.
During the summer, I work as a caddy at a country club, so I have plenty of golf balls and keep a few in my backpack when I need them. Lacrosse balls, tennis balls, golf balls, and baseballs can easily be added to your bag to release tight muscles in between or during classes. Throw the ball in a hoodie or a sock to make your session hassle-free.