School-based speech-language pathologists provide services to diverse populations with a wide range of disabilities. Our role is to treat students' speech, language, and/or communication delays so that they can be successful within their educational setting. Some students only have one or two speech issues, but others have multiple across several modalities. I'm going to explain why simultaneously targeting executive function skills and speech-language skills have been vital to helping our most challenging students.
Early in my time as a school-based SLP, I started to question the effectiveness of my practice because I felt that some students on my caseload were not making the progress they needed to. I knew that there were some underlying issues that contributed to these students' delays beyond their IEP disability classification, and as I continued to collaborate with my colleagues, I recognized that I was not alone in feeling this way.
I didn't figure out "why" until I bought the book Promoting Executive Function in the Classroom by Lynn Meltzer (2010). Now I make sure to incorporate the explicit teaching of executive function skills when I provide speech services, especially to my most challenging students. Having a clear understanding of the role of executive function in speech therapy helped me to address several major issues that I frequently considered when working with students.
Do you have students on your caseload who really really struggle to get started on an activity?
Are you repeating yourself, modeling, or guiding them through a task multiple (possibly hundreds of) times?
Do you try to find new ways to properly motivate these students, but nothing seems to work?
Do you hear teachers say, "I just don't know how to make them do it on their own" about these same students?
If you answered "yes" to any of these questions, then you may want to consider targeting executive function in your sessions!
What is an executive function and how can it help increase student performance?
Technology is always changing, and so is the amount of information that our students are exposed to on a daily basis; this means that educational settings must keep up with that growth. Higher-order thinking is promoted by exposing students to more complex literature and projects, and in order for students to do well in school, they need to master their own metacognitive abilities by:
Setting goals
Creating plans
Prioritizing actions
Organizing
Recalling and manipulating information
All 5 components must be readily available in working memory. They must manage all of these components to achieve a goal without it being explicitly taught to them. In fact, they must also become expert self-monitors by constantly reminding themselves: "If I do x, y, and z, I will achieve my goal." This is called executive function (EF).
"...students that SLPs have on their caseload most often are unable to master these skills on their own due to learning disabilities or specific language impairments."
According to an ASHA presentation given by Sarah Ward on Executive Function Skills (2009), EF by definition "is the ability to integrate a present awareness with a future anticipation and prior experiences to achieve a reasonable goal & plan." Students who have developed or are developing EF are considered to have a relaxed state of mental alertness (also known as relaxed alertness).
Caine, et. al (2016) describe relaxed alertness as the foundation for thinking, questioning, and experimenting, and it enables learners to be relaxed while exhibiting emotional engagement or excitement. In this state the learner feels competent, confident, and that they have a sense of meaning or purpose.
In many cases, students with appropriately developing EF are able to self-monitor and perform well in school. However, students that SLPs have on their caseload most often are unable to master these skills on their own due to learning disabilities or specific language impairments. Beyond these impairments, another factor that can lead to delays in the development of EF is stress.
Toxic stress from certain relationships with caregivers or experiences in adverse environments (such as the result of neglect, abuse, and/or violence) will also struggle to develop EF skills. Experiences like these impair developing brain architecture. Stressed children often see things as black and white, and as a result, they often see little need for problem-solving or creating new solutions. Unlike the relaxed alertness learner, stressed learners may not perceive themselves as intelligent, so their performance depends on someone else's judgment. They also, as a result, struggle to create a plan on their own.
What is the SLP's role when it comes to EF?
SLPs must target students' speech and language-based skills in conjunction with their metacognitive skills. This means working to increase students' self-awareness about their thought processes. SLPs can lead this by teaching their students strategies for self-monitoring! Intervention plans should foster a learner's ability to perform more executive function skills (Ward, 2009).
Activities should increase situational awareness and forethought, active self-management related to the passage of time, and organizing and planning skills related to both information and tasks. Meltzer states that executive function skills are not intuitive or innate for many types of learners, so it's vital that SLPs use explicit instruction when providing services.
What are some ways that SLPs can promote EF?
1. Write more specific IEP goals that target strategies instead of skills
Incorporating strategies into patient goals will make their goals more specific and achievable and can also it can also help you think about how you can get your students to reach them. Plus, if you have limited collaboration time with other professionals or have a hard time reaching parents, this gives them a way to see what you are working on. Here are some examples: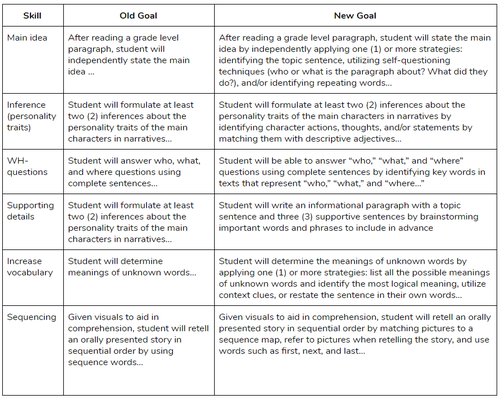 *note: These examples are for a variety of age groups. Your goals will vary depending on your students' specific needs.
2. Create tools that can help your student self manage
Increase Self-Monitoring: Create a two to five-step (depending on level) student-friendly, self-monitoring checklist that will guide the student to the desired outcome. Those outcomes can be a wide range of things such as sets of questions they can ask themselves when trying to identify the main idea of texts, the production of /s/ sounds, noticing when they blend words, and more.

Always simplify the language and include visuals (especially for our little ones). You may not always have to include written language when making checklists. When my students aren't sure what step to do next or where to start, I always tell them to refer to their checklist first, then I will offer more cues and prompting if they are completely lost. You might be repeating yourself over and over at first, but I promise you that, in time, they won't even ask for help!
Help with organization skills:

Similar to checklists, organization charts are a huge help. They allow your students to keep track of things physically and mentally through:

Visual reminders (color-coded notebooks, post-its on desk)
Visual schedules (go to school, unpack the bag, hang up coat, take out homework)
Written schedules that clearly state the flow of their day (homeroom, speech, gym)
Checklists for daily tasks (Did I write down my homework? Do I have all the books that I need? Did I pack my bag? Did I double-check?)

Predict future outcomes:

If I do x then y. If/then charts will help your students note what they need to accomplish before achieving a goal

e.g. "If I sound out my CVC words, then I will become a better reader".

They can also be used for positive reinforcement

e.g. If I sound out my words, then I can play on the computer."

Increase memory through mnemonic devices:

It may be useful for students (or you) to develop a fun mnemonic device that helps them to perform tasks independently without having a checklist or chart next to them. This could be useful for situations where they may not have access to charts like when taking a test.
Example from Promoting Executive Function in the Classroom (Meltzer, 2010):

Never Drink Sour Coffee.

Name: Did I write my name?
Directions: Did I follow the directions?
Strategies: Did I use my strategies?
Corrections: Did I check my work and make corrections?

Teach strategies for emotional self-regulation:

Self-regulation strategies help students to identify triggers and come up with ways to appropriately control impulses, formulate solutions, utilize self-talk and evaluate the results of their efforts. Checklists, rubrics, and interactive anchor charts serve as great visual tools to help implement these strategies. You can also model strategies to cope with negative emotions. Some strategies include:

Counting to 10
Verbalizing that they need a 2-minute break
Finding a constructive independent activity
Slow breathing.

I like to have a "cool down" jar in my speech room that contains plastic ice cubes; each has a coping strategy on it and students randomly select a new strategy to try.
Encourage students to openly discuss how they feel during specific events, classes, and activities, then connect the activity/emotion to a strategy. For example, if a student tends to act out because he or she feels bored during an assembly, 1 strategy would be to bring a quiet fidget toy to it if allowed. Lastly, be sure to chart the activity, emotion, and strategy so they can refer to them visually later!

Promote time management:

Time management plans help students prioritize tasks by incorporating the steps needed to complete a project or assignment, predict how long each step will take, and record how long it actually took.
If your student has a hard time completing homework in a timely manner, you can give them a chart that breaks up their afternoon and evening hours into 15-20 minute blocks. This allows them to predict how many blocks they will need. Then they can indicate what they plan to do, what they actually did, and reflect on whether or not they needed more time or less time.
The reflection allows students to assess how things are going and whether or not they need to adapt their schedule. For lengthier assignments, you can help students break them down into smaller steps and then break them down into smaller tasks or daily assignments.
3. Teach STOP
Ward's (2009) ASHA presentation spoke about the STOP strategy. STOP is an acronym that stands for Space, Time, Object, and People. It's designed to help students take a moment to be mindful, and teaches them to evaluate their current situation in real-time.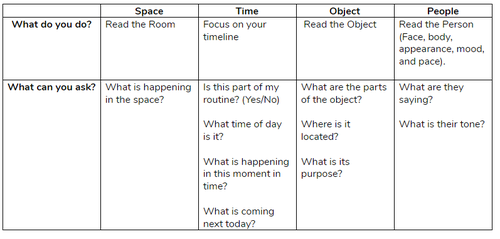 Overall, SLPs should promote the independence of their students' abilities to think and self-reflect through the direct teaching of EF skills. This will not only teach them valuable life skills, but it can also give students that are struggling a newfound sense of accomplishment and control in a setting that they may find incredibly challenging.
References
Caine, R. N., Caine, G., McClintic, C., Klimek, K. J., & Costa, A. L. (2016). 12 brain/mind learning principles in action: Teach for the development of higher-order thinking and executive function. Thousand Oaks, CA: Corwin.