Bert De Vera, PT talks with us at CSM about his experience running a home care agency, and how PT students can get involved in the home health care industry. De Vera's company hires physical and occupational therapists (and PTA's and OTA's), as well as speech therapists, to visit patients at home and assist with their rehabilitation.
Companies like his are certified by Medicare and contract with insurance companies, and often serve geriatric or pediatric patients. Doctors often prescribe home care for patients who are sent home from the hospital but still need further physical therapy, and payment is handled through Medicare Part A or private insurance.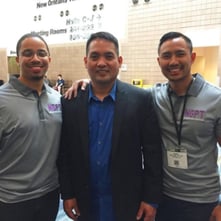 Some of the advantages of home health care are that patients are more relaxed and cooperative when they are receiving therapy in the comfort of their own homes. He wants to dispel the myth that home health care isn't rewarding work, saying it misses the point of physical therapy, which is to help our clients whether they are at home or in the hospital.
De Vera has a podcast called PT Business Coach, for physical therapists who want to transition from being an employee to being a business owner. He coaches other physical therapists how to start their own home health care companies, from setting up the LLC to hiring members for their team. He offers a free online course with videos on how the cash flow and payments systems work, a case study of a home health care business, and a blueprint on what to do when you're starting your own company.
He says that students interested in home health care should research and make connections with PT's already in the business. "The best way to learn to do something is to learn from the ones who are already doing it," he advises. When building your own practice, it's helpful to build off a model which suits your style and your personality as a physical therapist.
Interested in Home Health PT as a career? Check out these great NGPT articles, from Kevin Burciaga's new grad PTs to join home health!