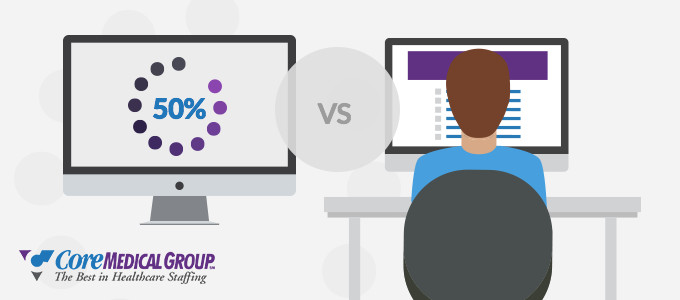 While September and October may not be the traditional time to make lifestyle changes (we're a little early for New Year's resolutions), there's something about fall that makes us want to buy new personal organizers and a fresh set of scrubs, then get out there and be our best selves.
Whatever the reason, we've decided to pull together a list of the essential nursing items that can help you feel better, brighter, and more productive this fall, and start great habits for the whole year round.
Nursing Accessories and Tech
An organized nursing bag: You might think your old backpack or favorite large purse is fine for hauling stuff back and forth to work, but as a nurse, you're carrying around a lot more than your wallet and your keys. Larger, lightweight bags with a lot of different compartments are perfect for nurses because they ensure that smaller items don't get lost and paperwork doesn't get crumpled.
A calendar/planner: How many times a day do you find yourself scribbling something down on a Post-It note at the nurse's station—or worse—writing it on the back of your hand to make sure you don't forget it after a double shift on the floor? Getting yourself a planner or calendar can help keep you stay organized, and "Back to School" season is the perfect time to buy them.
Nursing apps: Yes, there's an app for that, and "that" could be anything from a clinical care assistant to a medical dictionary. Download these apps on to your phone and you'll never be without the information you need.
Nurses' Clothing and Footwear
Supportive shoes: What you wear on your feet can seriously impact both your energy level and the way your body feels overall. Look for something sturdy, but flexible, that supports your feet, so that when you're standing and walking around all day (or night) there's no unnecessary pressure on your joints.
Graduated compression socks: These socks were made for nurses (and anyone else who spends all day on their feet). They help improve blood flow and increase circulation, reducing strain on your legs and feet.
New scrubs: We get it. On the one hand, they're just scrubs and they're probably going to get disgusting anyway, so why spend the money on fancy ones? But on the other hand, a quality set of scrubs (or two, because a spare is never a bad idea) in a breathable, flexible fabric can make a huge difference in how you feel throughout the day. Making that investment in both your professional life and personal wellbeing is totally worth it.