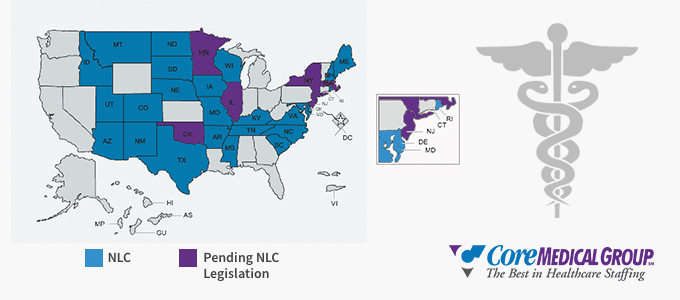 Updates have been made to multistate licensing for nurses as of 2018. Please download our new guide for up-to-date, accurate information on attaining a multistate license.
One challenge many travel nurses face is the need be licensed state-by-state for every assignment they accept.
For traveling nurses who take three or four assignments every year, that's a lot of redundant paperwork—not to mention application fees. That's the reason the Nurse Licensure Compact (NLC) was created.
What is the Nurse Licensure Compact?
The National Council of State Boards of Nursing (NCSBN), a not-for-profit organization that brings representatives from nursing boards together to take regulatory action on behalf of public health, safety and welfare, built the NLC to enable nurses to carry a multistate nursing license, also known as a compact license.
This compact license grants licensed RNs and LPNs in good standing who legally reside in a compact state the ability to practice in any participating (party) state without going through a separate the state licensure process.
How to Get a Multistate Nursing License
Once a nurse declares a compact state as their primary legal residence, their nursing license automatically becomes multistate. To learn more, download this NCSBN fact sheet.

Nurses looking to go from compact to non-compact states and vice versa must still apply for licensure in the new state of residence. Visit the NCSBN website for full details on moving between compact and non-compact states.
Current Nurse Licensure Compact States
Today there are 24 NLC party members—that's 24 states in which licensed compact nurses can freely practice. For the most up-to-date information about the Nurse Licensure Compact, including states pending NLC implementation and legislation, bookmark this page and check back often.
Here's the full list of compact states, current as of May 2015. Don't see your state in the list below? No worries. Our knowledgable travel nursing recruiters can help you through every step of the state licensure process.
Current Compact States, Updated May 2017
Arizona
Arkansas
Colorado
Delaware
Idaho
Iowa
Kentucky
Maine
Maryland
Mississippi
Missouri
Montana
Nebraska
New Hampshire
New Mexico
North Carolina
North Dakota
Rhode Island
South Carolina
South Dakota
Tennessee
Texas
Utah
Virginia
Wisconsin
Looking for more information on becoming a travel nurse? Contact us today, and be sure to download our quick guide below!