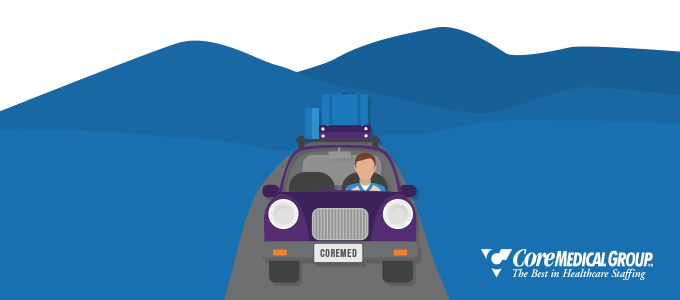 When you're sitting on your couch with your laptop thinking about "travel," you probably don't get a dreamy, sun-soaked image of Wisconsin or Kentucky in your head. A Google image search for "travel" brings up photos of European cities, palm trees, and tropical sunsets. But as a traveling nurse, you're not necessarily looking for a vacation destination—you're looking for the best locations to work as a travel nurse.
So what makes a city or state a great place for travel nurses? Job availability, for one. Ease of licensing and general cost of living are factors that can really make a difference for travel nurses.
Here are a few examples of locations that are great for travel nurses looking for their next adventure, even though they may not make the cover of a travel magazine (although they totally should).
Great Nontraditional Travel Nursing Locations
Montana: In October 2015, Montana became the latest state to implement the Nursing Licensure Compact, meaning you can now take jobs in Big Sky Country without going through the process of getting a brand new nursing license. Montana is the perfect spot for travel nurses looking for wide open spaces and the chance to experience some of our nation's natural beauty.
Tennessee: Pack your cowboy boots for this one. Tennessee is not only home to great music and food, it was an early adopter of the NLC and has one of the lowest costs of living in the country. Yes, your housing and travel costs will be included in your contract, but don't think the overall cost of living doesn't affect both your salary and how much you can save while working a specific contract. More money saved means more money to spend on BBQ.
Wisconsin: If you've never been to America's Dairyland, you probably have no idea that Madison is the perfect cross between college town and capital city. Travel nurses looking to experience both city and country environments while on a contract should consider the long list of jobs available in this state (don't take our word for it).
Vermont: Travel nurses interested in jobs in the northeast should consider Vermont, where the maple syrup flows like the White River. While Vermont is not yet an NLC state, temporary licenses to practice are issued to applicants the same day, making the process much less cumbersome for short-term workers.
Other great states for travel nursing include Kentucky, Alaska, Washington, Oregon, New Mexico, and Arizona.
Check out our available job listings for positions in any one of these states, or get in touch with a CoreMedical recruiter to find the travel position of your dreams—whether or not that dream includes palm trees.