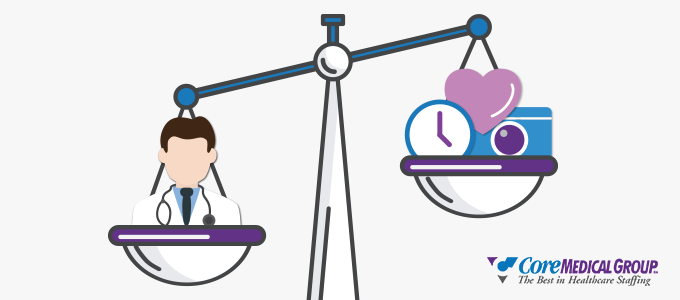 For many physicians, work-life balance is a myth. For others, the concept just seems silly. You don't dedicate yourself to becoming a doctor without the knowledge that it's going to take a lot of time and effort, so why the focus on a so-called balance?
Work-Life Balance: An Overused Term, But An Important Concept
The truth is, having something outside of practicing medicine is important both for the wellbeing of the physician and for the quality of care he or she is providing. We've all heard the airplane safety argument—put your oxygen mask on before helping others because you can't care for others if you aren't taking care of yourself—and although a little trite, it rings true, especially for doctors who are regularly responsible for the wellbeing of others.
So how do physicians find and maintain work-life balance? One reason why doctors choose to work locum tenens as a career is that the increased control over scheduling allows them to carve out time for the things they enjoy outside of medicine. Locum physicians have the ability to accept or refuse contracts based on their own needs, and so can avoid the burnout sometimes experienced by their colleagues.
However, for some physicians, working locum tenens is their escape from the day-to-day of a full-time practice. If practicing medicine is really what you love, but you feel that other aspects of your "day job" interfere with that, you might be able to find work-life balance in working locum tenens on the side. Yes, it sounds like more of a work-work balance, but that's what some physicians are looking for.
The most important part of finding a work-life balance as a physician is not to force yourself into what works for someone else, but find what works for you.
Practical Tips for Finding Your Work-Life Balance as a Physician
Whatever your current work situation, here are a few tips for finding your own definition of work-life balance:
1. Determine priorities, at work and at home. It's very easy to get overwhelmed with work if you're trying to do everything all the time. Similarly, your time at home may not be making any contribution to a work-life balance if all you're doing while you're there is creating a neverending list of other things you need to do.
Set priorities, delegate where you can, and allow yourself to focus on the important, or immediate, responsibilities.
2. Cultivate a hobby. Dr. Maria Yang writes that hobbies give physicians another lens through which they can view their lives:
"The importance of having hobbies is to experience growth and success outside of medicine. Maybe a patient said terrible things to me today, but I made a delicious soup from scratch. Maybe one of my patients died, but I was able to write about the loss in a meaningful way."
There will always be bad or difficult days working in healthcare, but hobbies can help physicians find good moments in even the worst days.
3. Make time for doing nothing. It's natural for physicians to resist being sedentary, but sometimes you just need to sit down and not do anything for a little while. If you're trying to find work-life balance by filling every minute you're not at work with some activity or other, you may still find yourself exhausted by life—professionally and personally. Taking a few minutes to allow yourself to do nothing can make the rest of your time more productive and rewarding.
The moral of the story? Yes, finding a work-life balance is particularly difficult for physicians, but it's also particularly important given the extreme highs and lows of the job. We're not saying you should you be taking a spa vacation every other week, but in order to offer the best care possible to your patients, you need to take care of yourself first. Even if you start with just sitting still for a few minutes.