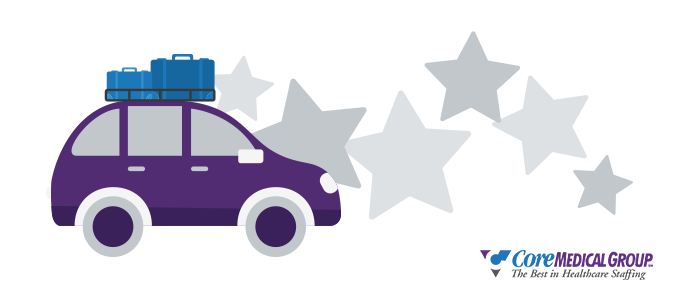 Listening to stories about life as a travel PT can sometimes feel like being read a fairytale before bedtime. Seriously, even we sometimes think it sounds too good to be true.
You probably wonder if that friend-of-a-friend (who added you on Facebook after you met that one time) who constantly posts incredible photos from her trips around the world as traveling therapist is just faking it for the social media audience. She can't really be that happy all the time...can she?
Luckily, we can go straight to the source for an answer to this question. There is a large online community of travelers, working in all aspects of healthcare, who are happy to share their experiences—good and bad. The following are some of our favorite perspectives. Want to share your own? Connect with us on Facebook, Twitter, or Instagram!
HoboHealth: For Traveling Therapists, By Traveling Therapists
HoboHealth is a great resource for anyone considering a career change to travel PT work, because the blog features posts on everything from health insurance to what building a "career" really means for travel PTs, as well as stories from other PTs, OTs, and SLPs working as travelers.
We recommend checking out "The Essentials" list of posts for some great perspective on life as a travel PT. No, it's not all sunshine and puppies, but blog authors and travel therapists James and Kate always come back to what they love about their work and the travel PT lifestyle.
Husband and Wife Team Love Travel PT Contract Jobs
This story comes from the CoreMedical blog. Anna and Josh are both travel PTs with CoreMedical Group, and have traveled together for contracts from the Bay Area of California to southern Massachusetts.
"We'll usually pick a location that we'd like to go to, and then work with our recruiter Josh to find two jobs in that area so that we can go together," Anna says.
You can read more about Anna and Josh here.
The Traveling Traveler
Although Julia is a traveling SLP, rather than a traveling PT, we're including her in this list because her blog and Facebook group have become a real community for all travelers, and her insight is great for both experienced travelers and PTs just starting to consider a travel career.
We strongly recommend her post on "The Winding Road to Becoming a Traveling Speech Therapist."
If you don't feel like reading any of these stories, we'll sum them up for you: Yes, being a travel PT is just a fun as it seems. There are challenges and stressful situations, like in any career, but if your heart jumps a little at the idea of being able to travel the world while still maintaining a "real job," travel healthcare work just might be the place for you.