When CBS announced its 35th season of reality show Survivor last spring, I could barely contain my excitement to see the new season's theme would be Heroes vs. Healers vs. Hustlers, and the cast would include Dr. Desiree "Desi" Williams PT, DPT, a physical therapist on the Healers tribe.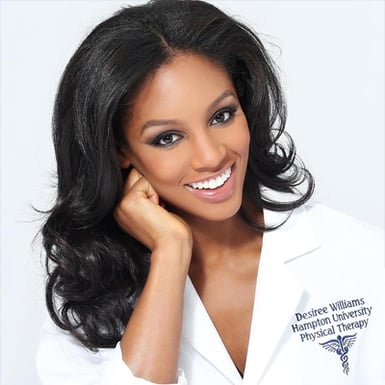 I was able to speak with Desi before the season premiered in September, and although she couldn't reveal any spoilers, we had a great conversation about the show and her career.
When the show was filmed in April and May 2017, Desi was, at just 27 years old, Director of the William R. Harvey Leadership Institute and an Assistant Professor of Physical Therapy at Hampton University in Newport News, Va. Hampton is also where Desi graduated with her Doctor of Physical Therapy degree in May 2015 and her Bachelor of Science degree in health and physical education. At Hamilton, Desi was a lab assistant in some of the basic clinical courses, including Test & Measurements, Basic Skills, and NeuroManagement I and II, and gave a few lectures. She also worked part-time in the clinic for Riverside Health System and served as Miss Virginia USA in 2016 and Miss Virginia in 2013. Her resume would be inspiring to any physical therapist, but it is especially impressive for a relatively new graduate physical therapist.
While on leave for two months to film Survivor, Desi said no one asked where she was going, and she said her patients hadn't yet brought it up despite commercials airing nonstop on CBS. This will most likely change as the season airs. The show premiered on September 27th and Desi was voted out in the episode that aired on November 15. She came in 11th place and was the first person to make the jury during this season. 😀
To prepare for the physically demanding immunity and reward challenges on Survivor, Desi didn't have to change much about her workout routine. She is used to training hard for pageants and works out about six days a week doing a mix of "calisthenics, running, and hiking." The one thing she added in was more swimming since she "figured we'd be on an island somewhere." And in fact, her season is one of many recent seasons of Survivor to be filmed in Fiji, so the swimming no doubt served her well.
While Desi made use of her athletic skills on the island, she was not called upon to use her professional skills. Although Survivor contestants have undergone their share of serious injuries in past seasons, Desi noted there were no accidents during her time on the island. But had one occurred, "There were also a doctor and a nurse with me [on the Healers tribe] so they would've probably been more qualified to treat the injuries."
During downtime when filming, Desi says she bonded with her fellow healers over their similar education and journeys in healthcare. The healers, who Survivor host Jeff Probst noted, "receive gratitude for their acts of service, and help people heal their emotional and physical pain" included a urologist, nurse practitioner, social worker, probation officer, and wilderness therapy guide in addition to Desi.
Being a physical therapist gave Desi an advantage on the island in that she is used to "being helpful, dealing with a wide berth of patients, and The Hollywood Reporter (THR), she noted, "I tend to manipulate my students more than they think, as well as the people I work with. I can get them to do what I want them to do."
Perhaps there is a link between getting patients to comply with their home exercise programs and swinging a Survivor alliance into voting out the competition.
Dr. Yolanda Rainey, an associate professor of Physical Therapy at Hampton, who at one point served as interim chair of the program, said, "Dr. Williams is an intelligent, strong and driven individual. I would expect that she would be quite successful on this show."
When asked how she felt competing in an often-cutthroat game, Desi told me, "I am very competitive, but it is not in my nature to lie."
"Physical therapy is very giving and it's about other people," Desi also said on CBS.com. "This is a selfish game, so it's time to be selfish, and any opportunity for me to show someone that I'm tougher than you, I'm stronger than you, I'm smarter than you. I'm all for it."
Asked if she felt pressure to represent the profession well on primetime television, Desi noted, "Initially I felt it, but then it just all became business."
At the moment, the self-proclaimed "thrill-seeker" is in the middle of changing her business. In August, she moved to Los Angeles to pursue a career in television hosting. If successful, she will join several former Survivor contestants who have continued their careers in television, including former View host Elisabeth Hasselbeck.
As she noted to THR: "I'm certainly ready for a change. I enjoy what I do. I don't know if it's my passion. It's something that I've sort of stumbled into. A lot of what I've done, pageants included, I've stumbled into it. I've been good at it and successful in this line of work, but I'm not sure if I'm going to do it for the rest of my life."
However, she told me that this new direction doesn't mean she's turning her back on physical therapy. Desi is hoping her future hosting career will involve wellness since "that will always be a part of me." With her increased fame, she says, "My goal has always been to inspire everyone to take responsibility for their own health and future. Encouraging people to be healthy and active and reach their full potential."
While she awaits her dream job, which would involve becoming a combination of "Oprah and Dr. Oz," Desi is working in outpatient physical therapy in a Los Angeles hospital. There are many aspects of being a physical therapist that she loves, including, "Meeting new people all day, seeing patients improve, the colleagues. It's a fun journey."
Look out for Desi to be gracing your television screen for years to come.