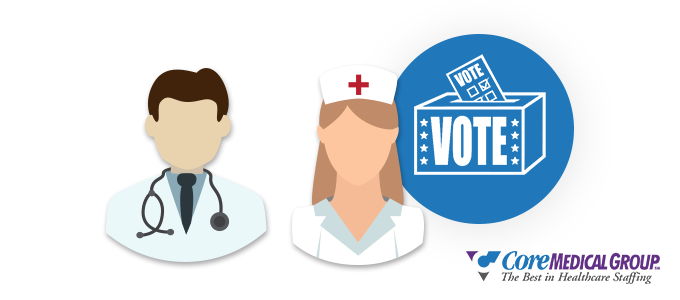 Your busy travel schedule might keep you from hearing about pretty much everything that's happening in the world outside of your hospital or facility, but even you can't avoid the fact that it's election season. But you're on a travel contract, away from your voting district, so how do you make sure your vote is counted?
Absentee Voting (Vote by Mail)
If you'll be working somewhere that is not your place of residence on Nov. 8, 2016, the first thing you need to do is request an absentee ballot. Much like medical licensing, requirements vary from state to state when applying for an absentee ballot (see more details below), as do the deadlines for applications, so be sure to check out your specific state's requirements before sending in your request.
You'll also want to double and triple check that the ballot will be sent to the right address. Call your local election office or town hall if you have questions about how to get your ballot.
Once you have your absentee ballot in hand, read the instructions very carefully, fill it out, and mail it back. Again, check your state's requirements for accepting absentee ballots so you don't mail it too late or too early.
And that's it! Just make sure your absentee ballot doesn't get mixed up in that pile of papers on your kitchen table that you've been meaning to get to for months.
For better or worse, government and healthcare are tied together. The decisions made by your elected officials—local and national—can have huge impacts on your everyday life, as well as that of your patients. So vote, and make sure you have a say in what actions those officials take.
Voting Resources by State
Alabama
Alaska
Arizona
Arkansas
California
Colorado
Connecticut
Delaware
Florida
Georgia
Hawaii
Idaho
Illinois
Indiana
Iowa
Kansas
Kentucky
Louisiana
Maine
Maryland
Massachusetts
Michigan
Minnesota
Mississippi
Missouri
Montana
Nebraska
Nevada
New Hampshire
New Jersey
New Mexico
New York
North Carolina
North Dakota
Ohio
Oklahoma
Oregon
Pennsylvania
Rhode Island
South Carolina
South Dakota
Tennessee
Texas
Utah
Vermont
Virginia
Washington
West Virginia
Wisconsin
Wyoming