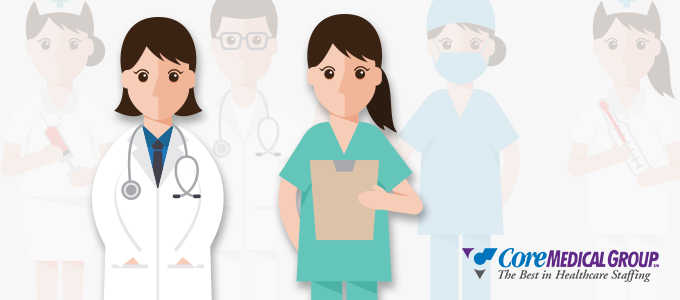 What does it mean to be competitive when it comes to hiring nurses in 2017? It isn't just salary or bonuses or even tuition reimbursement that brings qualified nurses to your facility. It's work-life balance, a professional support system, and the resources to help them succeed—not only in their current position, but with a continual focus on their professional future.
The U.S. Bureau of Labor Statistics predicts that the nursing shortage which has plagued hiring managers and healthcare administrators in recent years will continue through 2024, despite the fact that job growth in the industry is "faster than average." Obviously this has presented huge problems for numerous areas of healthcare, but one of the side effects to this shortage is that facilities have had to be increasingly creative when it comes to competitive hiring practices.
So how do you present your value as an employer to your potential new hires? Below we've outlined a few best practices for recruiting nurses that will help you attract the best, most qualified nursing candidates.
Offer Training and Transition Programs
As we mentioned above, today's nurses are looking for opportunities to grow professionally, and they will seek out positions that are compatible with their personal professional goals. Creating training programs for nurses interested in transitioning to other areas of care, or for less experienced nurses looking to improve their resumes, can help develop your staff and also ensure that your nurses don't take those resumes elsewhere.
Add these programs to your recruiting repertoire to let potential new nursing hires know that you value their goals and that they will have the growth opportunities they're looking for. What do these programs do for you? Transitioning staff internally will be significantly easier—and less costly—than hiring all new staff.
Focus on Hiring Support Staff
In addition to hiring RNs, make sure your recruitment strategy includes hiring nursing support staff, such as CNAs. It can be tempting to assume that your nurses can take care of everything—and they can—but you don't want them to. Nurses that lack the proper support in their jobs burn out quickly, and your candidates will know this. The best nursing candidates will be looking for positions where they will have the help they need to offer the best care possible.
Some hospitals and healthcare networks are tackling this issue by partnering with local universities and medical schools, setting up coop programs for higher level nursing students to work as part-time patient care assistants or creating scholarships for students interested in becoming CNAs.
Create Mentoring Programs
It's also necessary to support your nurses at the higher levels by creating mentoring programs with more experienced nurses, supervisors, or program directors. When nursing candidates are deciding between multiple positions, programs like this can make the difference in their choice, because they see that your facility will help them develop the professional relationships they are looking for.
If your facility is struggling with hiring qualified nurses, you may want to consider working with a staffing agency—or switching to a new staffing agency, if you're unsatisfied with your current candidates. CoreMedical Group recruits experienced nurses for full-time permanent positions at hospitals and healthcare facilities across the country. Get in touch with us to find out what we could do to help your facility attract the best nursing candidates today.