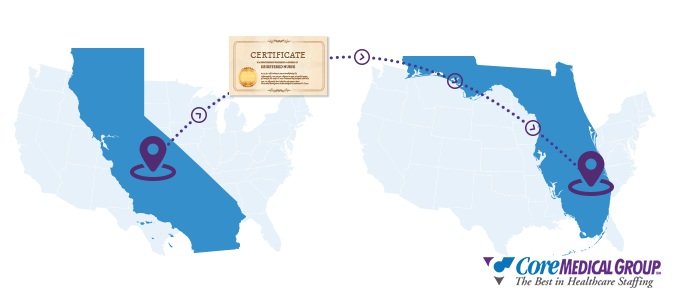 As a nurse staffing agency with clients all over the country, we place traveling RNs in contract assignments from Hawaii to Maine. One of the most common questions we get from traveling nurses is how to get a nursing license in another state.
Updates have been made to multistate licensing for nurses as of 2018. Please download our new guide for up-to-date, accurate information on attaining a multistate license.
Nursing Licensure Compact (NLC) States
Licensed nurses legally residing in one of 25 compact states get a break on this one. The Nursing Licensure Compact (NLC) allows licensed nurses in good standing who legally reside in a compact to practice in any party state. Learn more about the Nursing Licensure Compact here.
But traveling nurses who don't live in a compact state will need to go through the process of getting licensed in each state in which they practice. How?
Obtaining New State Licensure
If you wish to work in a non compact state, or you don't legally reside in a compact state, you will need to apply for licensure in the state in which you wish to work.
Because the NCLEX (National Council Licensure Examination) is now a national standard, it's not necessary for nurses to be reexamined on a state-by-state basis, provided you hold at least one active U.S. state license.
However, he or she must still go through the application process to obtain the new license. This process is known in the industry as licensing by endorsement.
How to Apply for Endoresement
To apply for endorsement, a nurse must obtain the appropriate forms from the new state's board of nursing. Sometimes this application is easily accessible online. Other times, you must request the application from the board of nursing.
Information and Fees to Prepare
Each state asks for different information. In all cases you will have to complete an application and send in a fee.
All states will require at least one, if not all, official verifications of any other state licenses held. Other items typically asked for may be school transcripts and fingerprint background checks.
Some states will offer temp permits to allow you to practice while some of the requirements that take longer are pending. Some states even allow "walk-through," in which you can go directly to the state board and walk out with a temp permit.
Be careful though, there are restrictions to temp permits and walkthroughs for anyone who has any criminal convictions or past disciplinary action on his or her license.
Requirements can vary greatly from state to state, so it's best to check with each board of nursing, or work with a staffing agency's in house Licensing Coordinators who can walk you through the process.
Need a Hand?
Want more information about transferring your nursing license from one state to another? Don't hesitate to contact one of our knowledgeable healthcare recruiters at (800) 995-2673 or email info@coremedicalgroup.com
We look forward to helping you find the travel nursing assignment of your dreams!
SOURCES:
How to Transfer a Nursing License to Another State
How to Transfer an RN License to Another State