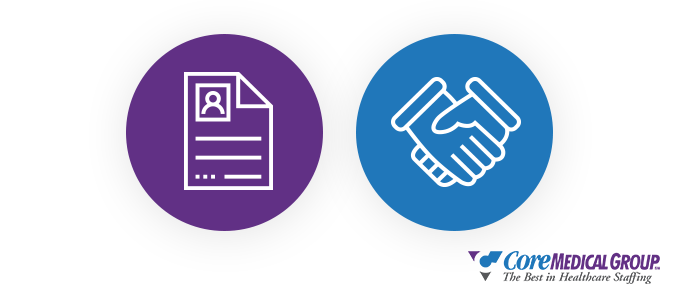 You've heard all about the nursing shortage in the U.S. and what hospital hiring managers are doing to account for it. When it comes down to the job search, you aren't just looking for any available nursing position—you're looking for the best available nursing position. So how do you find it?
Over the years, the job search process has evolved from calling about want ads found in the paper and mailing copies of resumes and cover letters around the country to scouring online job search sites, making LinkedIn connections, and sometimes uploading your resume directly through an employer's website. There are more options than ever before for finding and applying to nursing positions, but in some cases, more isn't always better.
Here we break down the two main categories of job hunting for nurses—the traditional networking and sending resumes approach vs. working with a healthcare recruiter—to help you determine which approach is most likely to connect you with the best nursing job for your experience.
Networking and Sending Resumes
When you first considered searching for a new nursing job, you probably headed over to your favorite search engine. You might have a specific location or specialty in mind, so whatever those criteria were, you typed them straight into the search bar and waited for your results.
The upside to internet job searches is the incredible variety of websites, job postings, and job search resources available to you. The downside is if you aren't exactly sure what you're looking for, the variety can be overwhelming.
Talking to and networking with other healthcare professionals is also a good way to hear about available positions, particularly if you're considering a move within the same area. The great thing about being a nurse in 2016 is that you can do the networking part of the job search online, as well as in person, with internet forums dedicated to healthcare and professional networking sites like LinkedIn at your disposal.
For many people, this is the only type of job search they've ever known; searching for openings, sending resumes, shaking hands, and waiting for an answer. If none of that sounds like your cup of tea, however, there is another option.
Working with a Healthcare Recruiter
Healthcare recruiters act as your middle-man—your agent, if you will—by matching your skills with the hospital or healthcare organization that needs them. Basically they do the searching after they've gotten to know you and what you're looking for in a nursing position, so that you don't waste your time applying to jobs only to realize later they aren't for you.
Recruiters can also help you get your resume to the top of a hiring manager's list, through the relationships they have with healthcare facilities. You won't have to worry about your application falling into a black hole, never to be heard from again.
It's important to find a recruiter that you're comfortable with so that you can speak openly about what you're looking for in your next job. When your recruiter is attuned to your needs, they can make the job search process a whole lot easier.