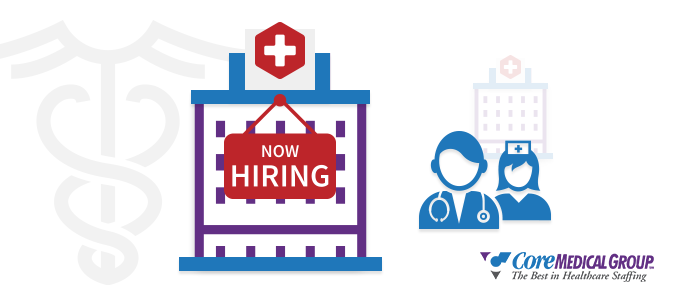 Staffing is one of the most pressing issues facing the medical community today. An increase in patients—due in part to the passing of the Affordable Care Act—coupled with an already existing shortage of general medicine practitioners and nurses, has left healthcare facilities across the country feeling the strain.
Staffing shortages, whether temporary or more long term, put stress not only on hospital or facility managers attempting to fill the gaps, but on the remaining medical staff trying to pick up the slack. So if your facility has never worked with a healthcare staffing company, or worked with one previously that wasn't up to snuff, now may be the time to reconsider that option.
The real question for many facilities, of course, is why pay a medical staffing company rather than just seeking out the candidates themselves? Why the middle man? For most, if comes down to a few basic factors.
Setting Priorities
Those in hospital and healthcare administration have a world of responsibilities to take care of, certainly not the least of which is keeping the facility staffed. The first priority of any healthcare facility is treating patients—as it should be—so filling gaps in staffing has to come at least second (if not third, fourth, fifth...). A medical staffing company's primary goal is to find the best possible candidates for any and all open positions. Working with a medical staffing company can help a facility keep staffing as a priority, without neglecting other responsibilities.
Vetting Candidates
The fun really begins when your facillity decides it's time to start the hiring process. Job openings are posted and resumes start to pour in. Even if your hospital has a specific and vigorous vetting process, you're going to get a few duds, and those interviews will take up valuable time you can't get back.
Vetting new job candidates is an involved and necessary process, but also one that your facility may not have the time for. Partnering with a medical staffing company—one with an extensive screening process—can help alleviate that time crunch.
Handling the Logistics
One of the best things about working with a quality medical staffing company is that the recruiters help with all the logistics of hiring someone. This can be particularly helpful if you're looking for contract staff to fill a temporary need—a sudden influx of patients or an unexpected opening on your team—but it can be helpful at any time.
CoreMedical Group works closely with our healthcare professionals, and your facility, to ensure that all required documentation and information is completed prior to the start of the assignment. Want to know more about working with a medical staffing company like CoreMedical? Contact us today!