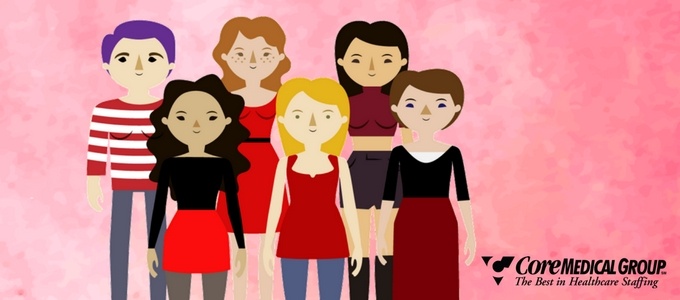 Friday, February 3, 2017, marks the 15th anniversary of National Wear Red Day. The event, which is observed on the first Friday in February annually brings attention to women's heart health and invites everyone to be more informed about heart disease.
Taking the lives of 1 in 3 women each year, the risk of heart disease and strokes can be minimized and even prevented with simple lifestyle changes. Here's some helpful heart disease prevention tips we've gathered from the American Heart Association for National Wear Red Day.
1. Eat Better
Creating a healthy diet helps your body fight off illness, including heart disease. By keeping your body rich with nutrients and minimizing bad fats, you can reduce your risk of heart disease. The key is not becoming overwhelmed by changing your entire diet at once.
Keep track of your meals in a food diary app for a week and start by fitting in a few more servings of vegetables, then move on to whole grains, low-fat dairy, and so on until you've slowly transitioned to better dining choices.
2. Manage Blood Sugar, Reduce Cholesterol
Other big pillars of creating a healthier lifestyle are managing your blood sugar and lowering your cholesterol. Diabetes and high "bad" cholesterol greatly increases the risk of heart disease and stroke, and managing your glucose levels, or taking medicine to regulate your insulin and cholesterol can lower these risks.
Reduce your soda, candy and dessert consumption to quickly start diminishing high blood sugar levels and let go of trans and saturated fats to lower your cholesterol.
3. Be More Active
With Youtube fitness videos, bodyweight exercises, and gym classes galore, there's so many ways you can become more active! Take a peek at the AHA's Heart Healthy Exercises for a breadth of resources on finding the ideal activities to keep you physically active and motivated!
Plus, if you're a travel nurse or travel therapist, you can always choose to move to cities with a wide range of activities. Travel west and try rock climbing in Yosemite National Park. Like colder weather? Why not go skiing in Colorado? Sun and sand more your thing? How about surfing in Hawaii? Wherever your life and career take you, you've got options to stay active!
Whatever small changes you make for your heart health now can make a big impact on your future and that's why National Wear Red day was created!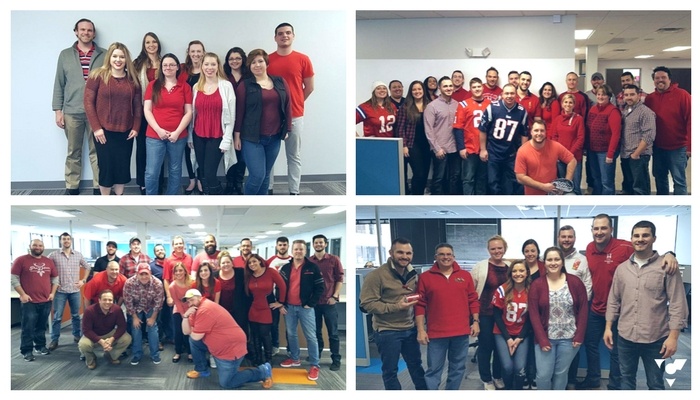 Clockwise from top left: Sales Development, Permanent Placement, Locum Tenens & Travel Nursing, and our Health Information Technology (HIT) divisions.
This year, in honor of National Wear Red Day, CoreMedical Group not only invited employees to wear red, Core has also made a promise to donate to the American Heart Association for each person who participates!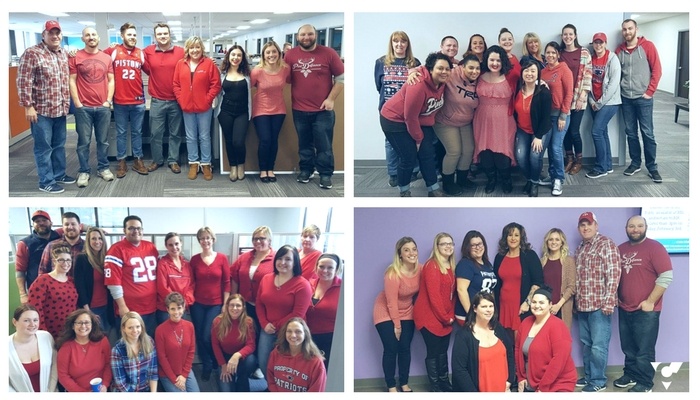 Clockwise from top left: Locum Tenens & Travel Allied (Therapy), Quality Assurance / Housing Coordinators, Finance, and Human Resources (& Locum Tenens again)
At last head-count, 96 employess came decked out in red! Don't worry, we didn't double or triple count the Locum Tenens team, despite their enthusiasm in joining multiple photos!
Thanks to all who participated! A donation will be made for each person who donned the crimson color, helping even more women and men understand the causes of heart disease and stroke and the many ways to reduce the risk.