Are you interested in taking on travel nursing jobs in more than one state? Want to have the freedom to travel to 27 states under one license? The easiest way to get licensed in multiple states is by qualifying for the Enhanced Nurse Licensure Compact or eNLC.
What is the Enhanced Nurse Licensure Compact (eNLC)?
The eNLC makes travel nursing a breeze by allowing RNs and LPNs to maintain a single multistate license without the need to get a license from each, individual state. The new eNLC, which is replacing the existing NLC on Friday, January 19th, 2018, will give nurses access to 27 states including Maine, Florida, Colorado, the Carolinas, Texas, and more. One new state coming to the eNLC will be Alabama.. Any nurse wanting to travel to Alabama with the compact license will be able to starting January 1, 2020.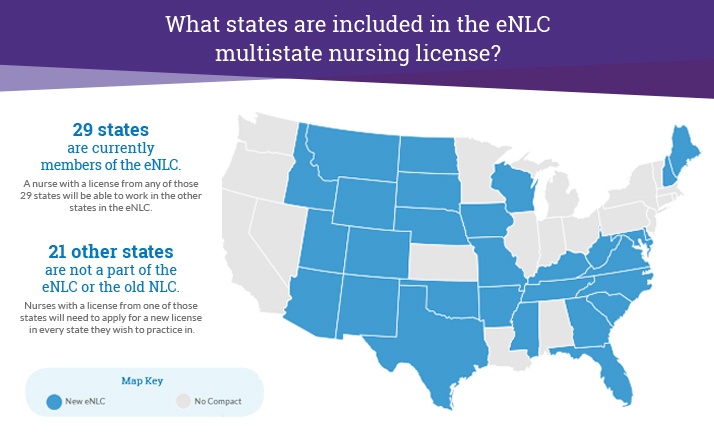 How do I get a compact nursing license?
Travel nursing requirements vary from state-to-state, but the eNLC has a distinct set of requirements that grants nurses access to its 27 states. Plus, nurses who currently hold the original NLC multistate license will be grandfathered into the new eNLC if their state has adopted the eNLC.
Learn even more about the upcoming Enhanced Nurse Licensure Compact changeover, see which states are included, and discover how to take advantage of the compact license with our eNLC guide below.
If you still have questions, travel nursing companies like CoreMedical Group have a dedicated credentialing team and knowledgeable healthcare recruiters who can assist you with this transition.