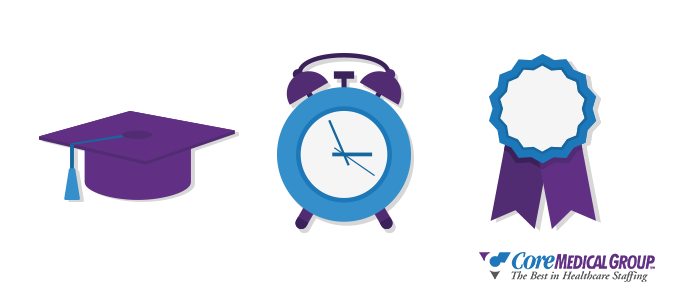 Are you a physical therapist looking for ways to advance your career? Should you go for a specialty certification? A fellowship? Or is experience really the best teacher in this case?
There are a number of tracks to furthering your career as a physical therapist. Here are some of the top options available:
Post-Professional Degrees and Specializations
Thinking about going back to school? A post-professional degree in physical therapy is a great way to further your knowledge in the field. Available programs range from graduate to doctoral, with focuses in rehabilitation science, biokinesiology, exercise science and nutrition, and many other specialty areas.
There's also the possibility of developing a specialization with post-professional education. According to the American Physical Therapy Association, physical therapists can become board-certified specialists in the following areas:
Cardiovascular and Pulmonary
Clinical Electrophysiology
Geriatrics
Neurology
Orthopedics
Pediatrics
Sports Physical Therapy
Women's Health
While you don't have to have a post-professional degree to sit for the specialty exam (requirements are a current license to practice physical therapy and evidence of a minimum of 2,000 hours of clinical practice in the specialty area, 25% of which must have occurred within the last 3 years) it can certainly help with the clinical requirements if you're not immediately hired by a facility specializing in the practice area you want to test for.
Clinical Residency and Fellowships
A clinical residency is a post-professional program designed to further prepare a physical therapist resident for the world of patient care. Programs generally focus on examination, evaluation, diagnosis, prognosis, intervention, and management of patients in a defined area of clinical practice.
Residencies may also include a focus on non-clinical aspects of physical therapy, including community service, patient education, research, and supervision of other health care providers.
Why bother with a residency if you're already licensed to practice? Well, completing an accredited residency program is another way to qualify for the Specialist Certification Exam, and—according to the American Board of Physical Therapy Residency and Fellowship Education—those with residency training generally score higher on the exam.
PTs who go through a residency program may also have the opportunity to get involved in other aspects of such programs, such as development, faculty, and mentoring.
Clinical fellowships are programs designed to provide a greater depth of study within a subspecialty area than what is covered in a residency program. While newly graduated and licensed PTs may apply for residencies, they may not apply for fellowships.
Applicants to a clinical fellowship program must have: a specialist certification, completed a residency in a specialty area, or demonstrable clinical skills within a particular specialty area. So a fellowship is a great way to further your career as a PT if you've already achieved a specialization and are looking for something more.
Consider Travel Healthcare Work
Interested in learning new things and gaining new experiences in the field of physical therapy but not entirely convinced that going back to school is the option for you? Maybe consider travel work.
There are thousands of contract jobs for PTs, OTs, and other allied health professionals waiting to be filled by people with a love of travel and trying new things. With travel work, you can move to a new position every few months and experience different places, facilities, and patients.
Interested in travel healthcare work as a way to further your career in physical therapy? Get in touch with one of our recruiters today.