This is hardly the first blog post or book written about the topic of specialization and generalization. In the physical therapy world, it's a hot topic issue and some have considered making it a requirement in given fields. If you want to delve more into the topic of overall specialization versus generalization, I'd suggest the book "Range" by David Epstein, as that book is what led me to really delve into and think about the topic of specialization as it relates to my professional development in the field of physical therapy.

What is a "Sampling Period"?
"Specialization is defined as "the process of concentrating on and becoming an expert in a particular subject or skill"
Specialization is defined as "the process of concentrating on and becoming an expert in a particular subject or skill", and is very important for career development. We all specialize to some degree, it's the timing that's different. Across various platforms (athletes, musicians, etc) it's been shown that the elite of the elite have dedicated their life, devotion, and practice to their specific skill after a time known as a "sampling period".
A sampling period is the time in your life when you're dabbling in different activities, interests, and topics while learning about yourself. You gain an understanding of what you're good at and not so good at. What you enjoy and what you prefer to procrastinate at.
Sampling periods look different for different people. For some in the physical therapy world, it's working in multiple professional fields before finding yourself in PT school. For others, it's working in acute care, skilled nursing facilities, and home care before settling in an inpatient rehabilitation center. Or for others it's working in an outpatient clinic seeing a wide range of patients (10 year old girl with patellofemoral pain, 65 year old man s/p TKA, and 85 year old woman with spinal stenosis and balance dysfunction) all in the same day before finding out what you truly like treating.
Regardless of the level and degree of sampling, this period is important for young professionals in the physical therapy world before putting all of your focus into one aspect of the profession.


What Do You Want to Specialize In?
As a new grad physical therapist, and even while in school, one of the first major questions my managers and professors would ask was "what specialty do you see yourself going into?" Early sports specialization is probably the most hot-button topic in this sense, but the parallel to new grad physical therapists is kind of glaring.
We know that early specialization in young athletes is detrimental to their physical and psychological health and overall increases injury risk/pathology (Little league elbow, female athlete triad, etc.); why would we do this to our young therapists in a professional sense? The case for specializing, one could make, is that it makes you more marketable. While there is no disputing this, there is also value in having a wide array of skills and experience to draw on that also can make you marketable to an employer.
In "Range", Epstein cited a study by Moesch et al. on the topic of delayed specialization in elite athletes. They found that eventual elite athletes had less training hours per week during early childhood and "specialized at a later age" than their near-elite peers. The graph pictured contrasts the average number of deliberate hours practiced per week among elite and near-elite athletes as they progress in age. The key point here is that the elite athletes eventually devote more time to their craft than their peers, but this occurs at a later age after their "sampling period" and led to less burnout.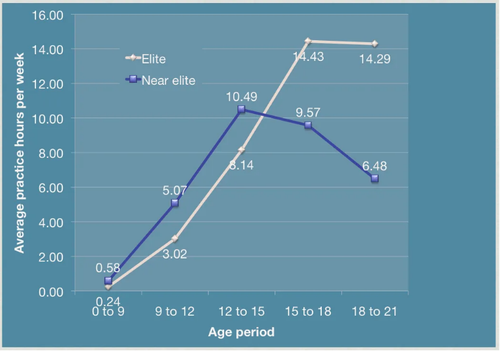 Moesch et al. 2011, https://sportsscientists.com/2011/04/early-vs-late-specialization-when-should-children-specialize-in-sport/
For some new grads in the physical therapy world, the various clinical settings that you experienced while in school is enough of a sampling period. The program I attended (Arcadia University) recommended that our clinicals cover various settings for this very reason. These clinicians have no problem specializing early by getting their sports, orthopedics, pediatrics, or neuro specialization because their sampling period was in PT school.
"For new grads who aren't so sure, don't feel that you're behind or become pressured into specializing early if you're not 100% sold on an area of expertise quite yet."
For new grads who aren't so sure, don't feel that you're behind or become pressured into specializing early if you're not 100% sold on an area of expertise quite yet. You're still in your sampling period. Embrace the generalist approach for a few years, sampling various caseloads and settings of physical therapy to gain a greater understanding of what you enjoy and value. You will be happy you did in the long term.

When the Only Tool You Have is a Hammer, Everything Looks Like a Nail
Epstein in his book cited the common argument that when trying to solve a problem, it's better to have individuals with multiple backgrounds to draw on their vast array of experiences than to have a bunch of like-minded people trying to solve the same problem.
In the case of physical therapy, it's best to be able to draw on past experiences when confronted with a new problem. The case for being a generalist, or having the experience in various settings, is when things aren't progressing as they typically should with a certain patient you can draw on your previous experiences in an attempt to troubleshoot the case.
A great example of this is a physical therapist who is in their second or third career drawing on their past experience in business or marketing to help grow their clinic. Or a physical therapist working in an outpatient orthopedic setting who has previously worked in acute care and is more well-versed in red flag/medical screening. "When the only tool you have is a hammer, everything looks like a nail".


My Perspective
My story of delayed specialization is still ongoing. I've been working in an outpatient setting since I graduated but have seen many different flavors of caseloads. My majority currently is in orthopedics but I've been exposed to sports-related concussion (which has led me into the vestibular world) at past clinics.
I dabbled in the home health world as a per diem therapist before learning that that setting was not for me. I've had clinicals in hospital-based inpatient rehabilitation centers and TCUs. I've worked in clinics where I was the sole physical therapist and also clinics where I'm working as a member of a larger team. These experiences have and are currently having an impact on my future specialization - whatever that may be.
What are your thoughts? Do you agree that delayed specialization improves growth? How is early vs delayed specialization affecting our marketability as young professionals?