This weekend, NGPT journalist, Sara Cates, and I will be attending the 2017 California Physical Therapy Association (CPTA) conference.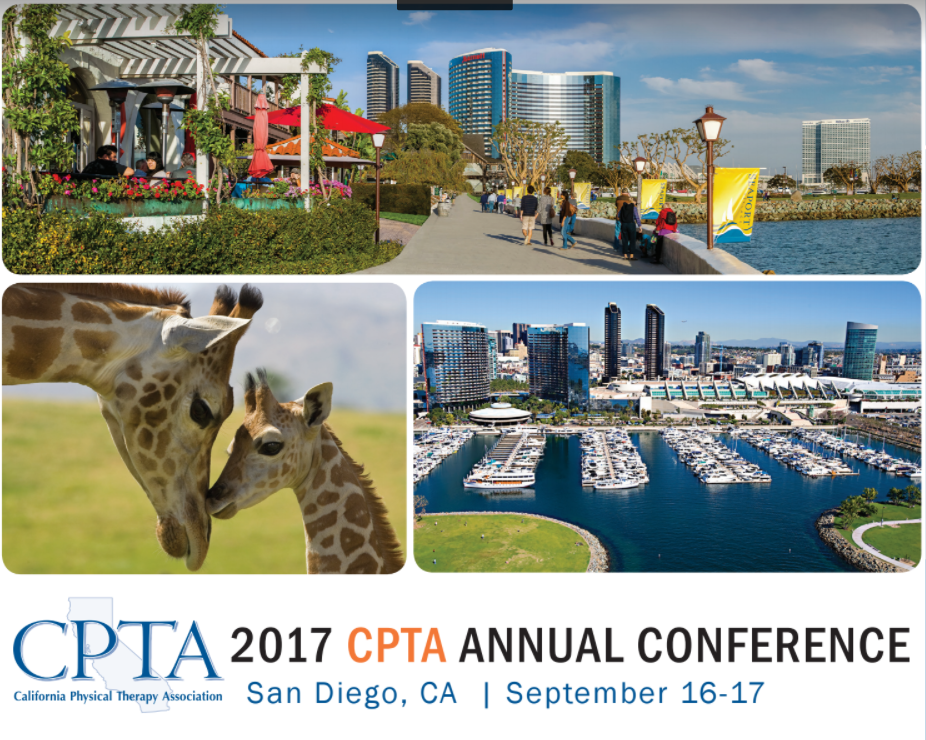 Before we get started...what is the CPTA annual conference?
Don't feel bad if you don't know what a state conference is, much less have actually attended one. It's never too late to become more involved in making your profession better, and that's exactly why this conference is taking place.
It's an event that is designed to bring PTs and PTAs together in a central location (in this case, the San Diego Convention Center) in order to, in the organization's own words, "exchange best practices and establish new strategies to help elevate the physical therapy profession."
Pretty cool, right?
Conference events include:
Two keynote presentations
2017 research posters
2017 Noland Address
Professional networking opportunities
Special Interest Group (SIG) meetings
PT industry leading 100 booth exhibit hall
CAL-PT-FUND Barrels & Brews
CAL-PT-PAC Dinner
We're really excited and we want to share 5 of the many reasons why we're so pumped to attend this event.
1. Networking galore
Networking at conferences is incredibly helpful for your career. Over 1,100 physical therapy professionals are anticipated to be in attendance at CPTA.
From the courses themselves, to the poster presentations and the keynote speeches, the 2017 CPTA annual conference promises not to disappoint.
And don't forget about the after parties!
If you're a beer fan, you can check out the Barrels & Brews event at the West Terrace from 5:00-6:30 PM on Saturday, 9/16. It's $40, but it goes toward the support of PT research!
If you like a good fancy dinner, the CAL-PT-PAC dinner at the Hilton Gaslamp is your best bet to enjoy a tasty meal. Oh, and don't let us forget to mention that you can gather with others who are active legislatively. Business and professional attire is encouraged, and tickets are $100. The event will take place from 6:30-9:30 PM on Saturday, 9/16.
2. Reunion time
While it seems to have flown by, Sara and I graduated 7+ long years ago! I know I started NGPT and everything, but don't hate me; I'm not really a new grad anymore!
Part of 7 years passing by is losing touch with people. Even though many of our University of St Augustine - San Marcos (yellow class 2010, wooooot!) classmates are still living locally, I haven't seen many of them since we walked across that stage.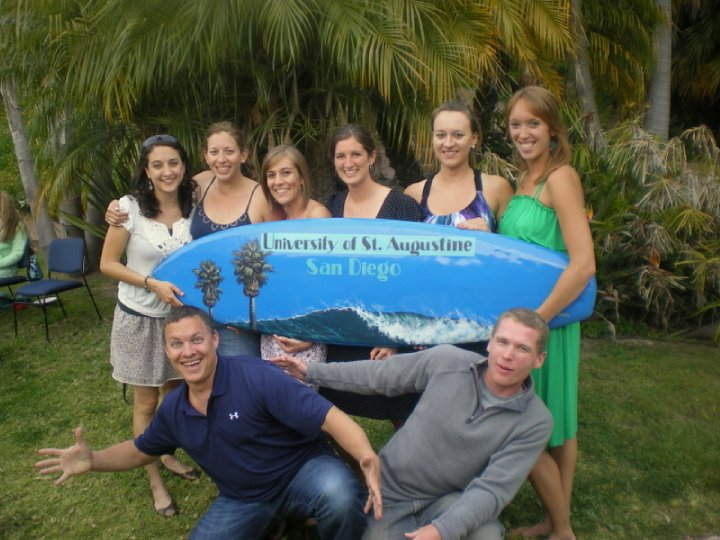 Both Sara and I registered to attend the USA lunch during the CPTA conference. It will be fun to see what all our old classmates are up to, as well as enjoy the opportunity to call our professors by their first names....finally! Mwahahahaha ;)
3. Education
PTs are the movement experts, and we all know that being a physical therapist is awesome. But the general public isn't always as informed about how great we are ;)
This year's conference will cover courses on the following topics:
Acute care
Manual therapy
Orthopedics
Pediatrics
Post-stroke
Private practice
Research
Socioeconomics
4. Research and poster presentations:
Did you know that there will be 40 (yes 40) different research presentations will be on display at this conference? And you can speak with the authors of these studies - in person!
And if you just want to check out the poster presentations without chatting up the presenters, you can visit Lobby 6 on 9/16 between 11:30 AM - 5:00 PM, then again on 9/17 between 9:00 AM - 2:00 PM.
6. CEUs
One of the best things about going to CSM or a state APTA conference is the continuing education credits you can rack up. You can earn up to 13.5 contact hours (1.35 CEUs) at the CPTA annual conference.
9.5 of these contact hours can be earned by attending the educational sessions, and 4 contact hours can be earned by attending the conference itself.
Oh, and if you attend a Friday pre-conference course, you can earn an additional 8 contact hours (.8 CEUs).