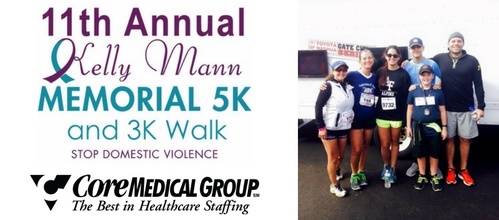 The CoreMedical Group took strides to end domestic violence by sponsoring and participating in the 11th annual Kelly Mann Memorial 5k and 3k Walk in Nashua on Saturday, September 24th.
The CoreMedical team, friends and family members raised funds and showed their support of local domestic violence victim Kelly Mann. In a sea of runners donning the designated domestic and sexual violence awareness colors of purple and teal they laced up their sneakers to honor the late Kelly Mann and her family.
One hundred percent of the proceeds raised by this event were donated to the domestic and sexual violence support nonprofit Bridges whose efforts assisted 2,383 individuals in our community last year.
This year the 5k and 3k drew hundreds of runners and walkers (over 300) from newborn to 90+ years old to Sunset Heights Elementary School in Nashua. Participant awards were designated for the 3 top finishers in 11 age groups and awards were also given to the top 3 finishers overall. The event raised $43,000 for Bridges!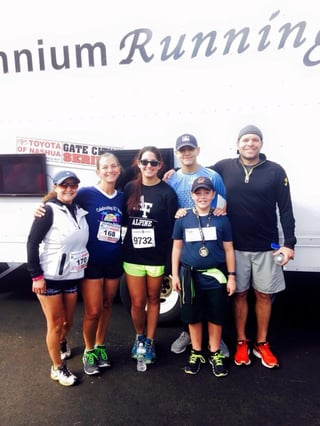 CoreMedical Group participants included Jess and Rob Brown, Jo Newell, and their families, pictured above. Jess and Rob Brown's two boys took home awards with Giuseppe taking 1st place in his age group and Connor taking home 2nd place in his age group. Bravo!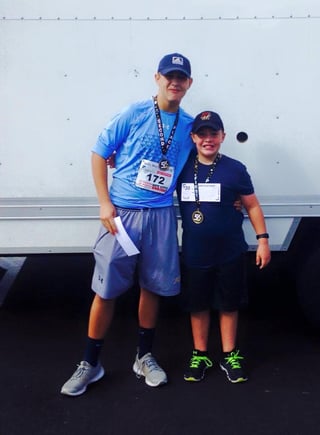 Senior Sales Development Sourcing Specialist and participant Debra Hunter held a special connection with Kelly having worked with her years before. "I was so happy to do this walk as I think of Kelly often," Deb said. "She was such a great person."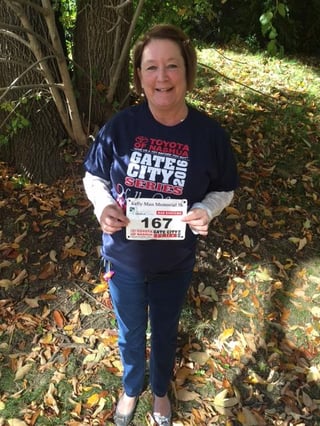 "The best part of the whole experience was that I saw Kelly's best friend who adopted her 3 daughters and gave her a big hug," Debra reminisced. Kelly's three daughters Ashley, Lauren and Katie were taken in by Dave and Jannine Farrar, growing their family from two to five and helping them thrive after the tragedy.
Though Debra had never met Jannine she recognized her from the news and said, "It was important for me to let her know Star Med [Debra and Kelly's previous employer] and CoreMedical Group were there representing. I think I'll be going every year."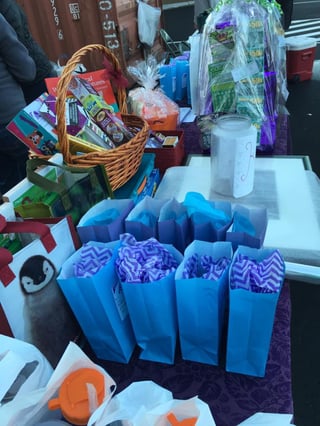 Overall the Kelly Mann Memorial 5k and 3k was a successful event, offering participants some good exercise and raffle prizes while gathering the community for a great cause. CoreMedical Group was happy to sponsor the event and raise our heartrates in support of domestic and sexual violence survivors.