*Blog originally published on 5/8/19 and updated on 5/17/21

CoreMedical Group selected the Boston Children's Hospital as the recipient of our first quarter's CoreCares Initiative in 2019. Each year, Boston Children's Hospital cares for approximately 275,020 patients from more than 100 different countries. With the theme of "Dream Dare Deliver" behind them, the hospital helps children get back to doing what they do best - being kids. Their innovation in medical science and technology dares to make changes as yet unseen, to deliver healing to as many who need it. With the financial support of individuals, families, and corporations, they are able to help more children to receive the medical treatment they deserve.

Each quarter, CoreMedical Group selects an organization to assist, and the entire staff, and sometimes even our healthcare professionals, come together to support this cause. With Boston in our own backyard, less an hour away, many of CoreMedical Group's staff in Manchester, NH felt a personal connection to the Boston Children's Hospital, with some even utilizing their services for their own families.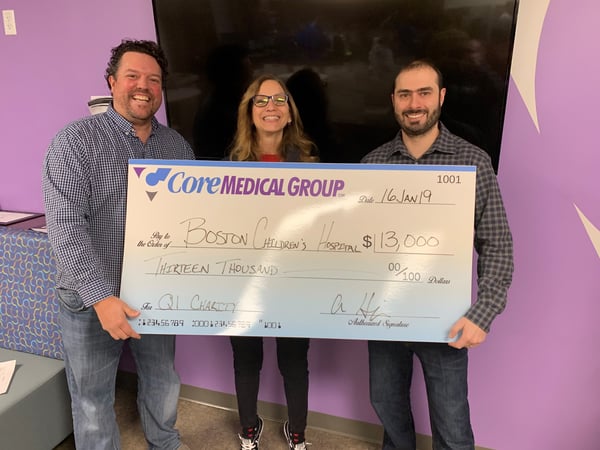 CoreMedical Group is pleased to announce that through our Q1 CoreCares Initiative, we were able to raise $6,500 in donations for Boston Children's Hospital. In addition to the employees' generosity, CoreMedical Group committed to matching the $6,500 gift, bringing our total contribution up to $13,000. We are excited to dream, dare, and deliver this gift to help more children locally and around the world through the Boston Children's Hospital.
Learn more about our commitment to the CoreCares initiative and how CoreMedical Group supports organizations in need throughout the year here.
Our team members continue to do amazing things for the communities we serve. Want to make a difference with us? Learn more about the value and benefits of starting a career at CoreMedical Group and check out our current job openings. Let's make a positive impact together!