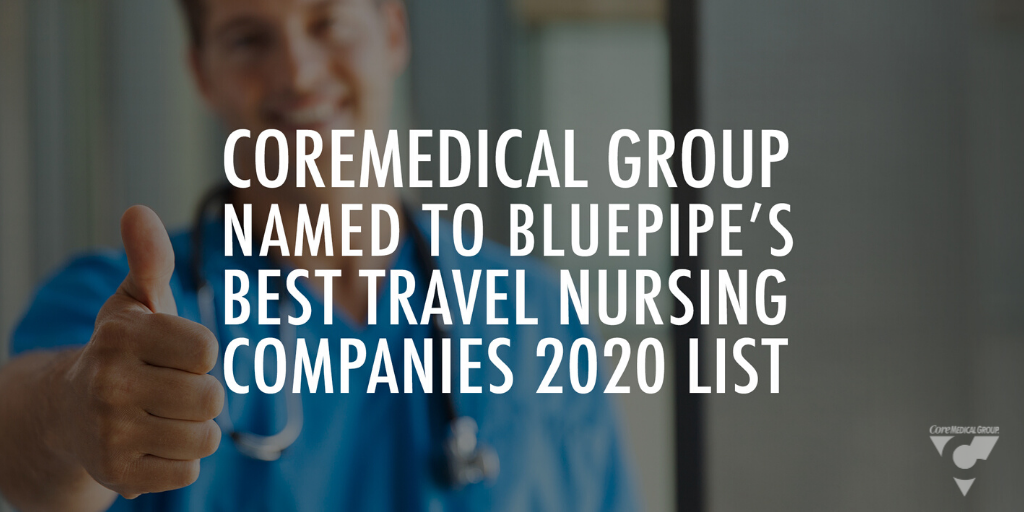 *Blog originally published on 6/30/20 and updated on 4/23/21
CoreMedical Group is proud to announce that we have been named #7 out of over 300 companies on the top 20
Best Travel Nursing Companies 2020 list! The Annual list is presented by BluePipes, a professional networking platform dedicated to the healthcare industry because they realize how difficult it is to find the best travel nursing agencies.
The annual list is published on the BluePipes website and is based on over 79,000 online reviews from various websites. BluePipes examines and aggregates the reviews on Highway Hypodermics, Travel Nursing Central, Facebook, Indeed, Glassdoor, and Google in their weighted calculation each year. The complex score is based upon a weighted average of the combined ratings on a 100-point scale, keeping in mind positive or negative changes from the prior year.
CoreMedical Group's final score of 96.84 landed us at #7 on the list of the top 20 agencies!
BluePipes noted that our 2020 average scores increased on Facebook, Indeed, and Glassdoor. With 350 reviews across the web, our aggregate average score increased by five points in the last year. We are proud to know that so many of our employees and healthcare professionals value working with us and rate us so highly! We work hard to create an environment with a mission to connect people, improve lives, and give back.
If you've enjoyed working with CoreMedical Group, you can leave us a review too!
Some of our recent reviews mention that the employee has "never felt more valued," CMG has "great culture," our recruiters are "consistently professional and supportive," "the onboarding process [is] effortless," and more. Plus, our Club CoreMed opportunity allows you to work towards all-inclusive resort vacations at incredible destinations!
To learn more about the BluePipes ranking process and to see the full list, visit their blog outlining the entire process.