CoreMedical Group paired with the American Red Cross to bring relief to the communities affected by the devastating impact of Hurricane Harvey.
On Friday, August 25, 2017, the Category 4 Hurricane Harvey made landfall in Texas causing incredible damage with its strong winds reaching speeds up to 130 miles per hours and rainfall that caused severe flooding. While our fourth quarter CoreCares charity initiative was not set to kick off until October, it was imperative to support the residents of Texas who were in the midst of this natural disaster.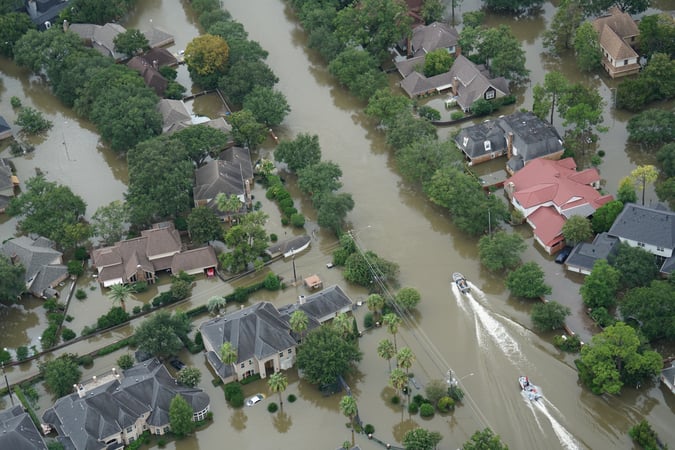 CoreMedical Group's management and staff immediately began providing much-needed funding to the American Red Cross to support their relief efforts. Core also opened up donations to our travel nurses and travel allied health professionals to create an even bigger impact.
During the quarterly CoreCares charity initiative in September, Core staff raised a total of $6,700 and our travelers raised an additional $1,135 for Hurricane Harvey relief efforts. With Core's dollar-for-dollar match, we were able to contribute over $15,000 to the American Red Cross!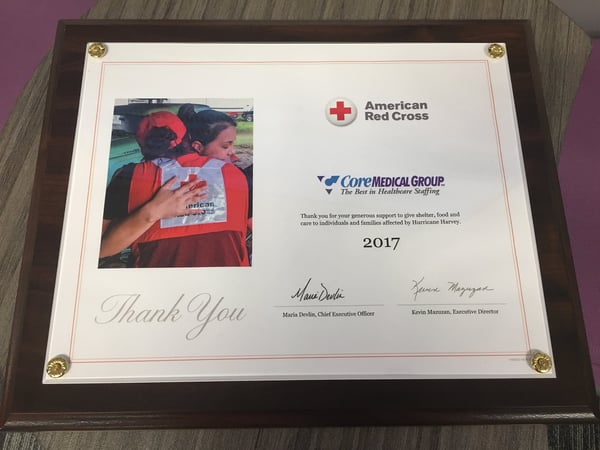 In December, Stephanie and Shannon from the American Red Cross' New Hampshire and Vermont Region stopped by our monthly rally to thank Core for our contributions which aided in providing food, shelter, and care for those affected by Hurricane Harvey.

In those three months, the Red Cross was able to offer more than 4.5 million meals and snacks, distribute over 1.6 million relief items, and provide immediate financial assistance to more than 573,000 severely affected households.
We are consistently proud of our Core family for coming together for those in need, and we are grateful to the American Red Cross for recognizing our efforts to give back to our local and national communities.