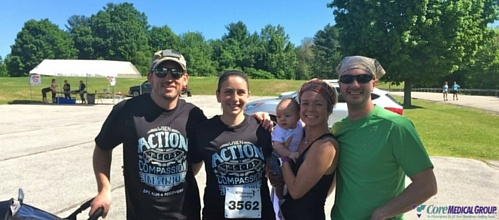 On June 11, 2016 CoreMedical Group will be sponsoring the 2nd annual DFC Run 4 Recovery 5K in Derry, New Hampshire. Core team members will be participating in the race with friends and family, raising money to support the Derry Friendship Center. The DFC is a local organization that provides a safe space for recovery meetings and support groups, with the mission of creating awareness and ending the stigma of substance misuse.
The DFC Run 4 Recovery was co-founded by Josh Bourdon, the Allied Division Manager at Core, with other local community leaders Tanya Tarallo, Eric Spofford, and Patrick Conway. Last year they decided to do something to support the Derry Friendship Center after seeing the impact that substance misuse has had on the Derry, NH community.
Josh is passionate about fighting the stigma and increasing access to treatment in New Hampshire. The Derry community has been hit hard by the lack of services available and he wanted to support an organization that is making a difference in the lives of folks in the area.
"A 5K was a natural fit for a fundraiser," says Josh. "It's an event that is a healthy alternative for those in recovery. It promotes wellness and family."
In addition to being a sponsor, CoreMedical Group has a dozen participants who will be running and walking in the 5K. Core is proud to sponsor the event, both to support a long time employee and in keeping with our second quarter charity initiatives – collecting supplies and donations for local recovery centers.
"Core has been supportive every step of the way," Josh explained. "They truly care about their employees and the state of New Hampshire."
The DFC Run 4 Recovery 5K is being held on Saturday, June 11, 2016. Check in begins at 9 AM and registrations will be accepted on site. You can also register online ahead of time. In addition to the race, the event will have live music, food, games, and guest speakers including those who have been personally impacted by addiction.