Who needs con-ed? I just got a DPT and my resume is good-to-go!
I know what you're thinking. We all know that we have to continue learning, but it's time for a break, right?
So take your vacation. You've earned it. But what about the job? What about interviews and standing out from the crowd? Don't worry, everybody. I did all the work for you.
I'm a traveling PT, so I've had plenty of different bosses, and I polled them all and found out what a boss is looking for in the "Con-ed" section of your resume that will make you stand out in the sea of applications on his or her desk. The right skills on your resume can help you land the job, traveling or otherwise, over another PT.
If you have a job and want a leg up, if you're in school and want that extra edge, if you're also a traveler who wants a killer resume, or if you're looking to upgrade jobs, check out what my bosses want to see in your resume!
Update From Private Practice Owner Anthony Maritato
Anthony reached out on facebook and commented on this post to share some insights with the community. With his permission, we posted a screenshot here.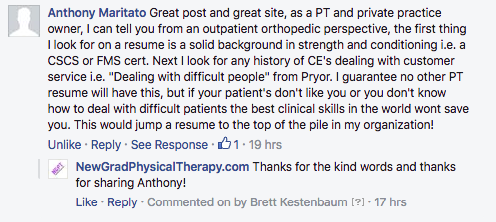 Treatment People Recognize
What do you bring to the table that the patients will recognize? Without patients walking in the door, the job is gone. Every area of the world has its niches, so go find yours. What does your patient population want? What do the referring physicians want? I guarantee that any manager worth his/her salt will know what that is. So go get that skill! You'll be the easy choice to hire.
Letters After Your Name
Not really. None of my bosses really cared about the letters after your name. Some actually thought it could be a bit excessive, but what they do want is the skill set that those letters represent. I kept hearing the 3 big M's of ortho from my outpatient employers: Maitland, Mulligan, and McKenzie. Now your boss might not care about the COMT, CMP, or cert. MDT after your name, but they want the skill. Many certifications aren't easy or cheap, so if you commit to one of them, even just the first in a series of courses, your boss will know you're serious. That knowledge - the fact that you mean business - may be enough to get you that interview. Now this is definitely a potentially expensive option if your boss doesn't pay much for con-ed, but you keep those skills forever, and your interviewer knows it.
Skills Your Boss Can Market
This was big from the private practice owners and the hospital rehab unit supervisors alike. Physical therapy setting aside, LSVT BIG, vestibular certs, ImPACT for concussions, NCS, Graston/ASTYM/Hawk Grips proficiency, dry needling were all big hitters. These bosses all wanted something that the other guy didn't - especially the small regional hospitals. My bosses in Texas were a RN and an OT, so neither was extremely well-versed in all of our PT certifications and specialties, but they both saw plenty of patients who had specific needs. If you find a way to address those needs in a way that the hospital can put on a flyer, you're in.
Something Different
Some clinics already have a McKenzie clinician, vestibular specialist, and a manual therapist who can dry needle you under the table. So what con-ed do you do?!
Just be different.
So many of my bosses were just sick of the same old resume on the desk. If Maitland is popular in your area, tons of people are certified, and you're more interested in concussions - go for it! If you want to do something different, be passionate about it, and go for it! The less you blend in, the better.
Well I have one request: learn something new. Never in your PT career have you been able to decide what to learn and when. You may have had some awesome classes (or not so awesome), but it's always been on someone else's schedule. Not to mention the tests, quizzes, practicals, and ever-looming threat of skills check offs, competencies, or whatever your school called those terrible moments when you had to stand in front of the class and perform something you learned once and definitely forgot. (or was that just me?) Now you have the chance to learn what you want, so go for it!
Hope you like it, folks. Let me know if you have any different thoughts or experiences!