Jenna Kantor, co-founder of Fairytale PT, talks with us at CSM about how her company utilizes performing arts physical therapy.
Fairytale PT is a company that brings musical theater shows to kids in hospitals and teaches choreography composed of physical therapy exercises. Fairytale PT is also a service-learning opportunity, with physical therapy students and physical therapy assistants taking the lead and organizing their own performances with Fairytale PT's support.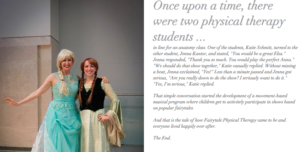 How the service works is that students contact hospitals and set up a date, then Fairytale PT gives them the support they need to put on a performance. Kantor believes that performance art therapy is a great way to reconnect with the reason you decided to become a physical therapist, by cheering up and helping children in hospitals get some exercise. Performance art therapy can also provide a fun escape from schoolwork and an opportunity to bond with your classmates outside of the classroom.
In the video above, Kantor demonstrates some of Fairytale PT's choreography with CSM attendees Jonathan Momplaisir and Danielle McDonald, teaching them a dance made up of physical therapy exercises for children, set to the song "Let It Go" from Disney's animated feature Frozen.
Featuring lots of stretches and movement, dance moves are a fun and easy way to motivate children to do their physical therapy exercises. "It's a great way to get kids moving and cheer them up," she says.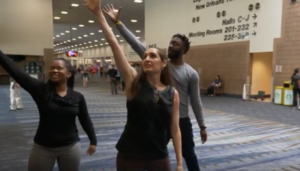 Kantor not only runs a performance art therapy company, but she spends a lot of her time acting as an advocate for the profession. "Advocacy is about personal growth and thinking beyond myself," she explains. "If you want change in any manner, you have to take action." Performance art therapy is an exciting way to combine your passion for the performing arts with your profession as a physical therapist.
Are you a PT with a Performing Arts background like Jenna? Do you want to combine the performing arts with physical therapy? You'll love our other article on performing arts and PT.