We had a chance at CSM to talk with Will Gonzaba, owner of Physio2Geaux, and Aaron LeBauer, owner of LeBauer Physical Therapy in North Carolina and host of the CashPT Lunch Hour Podcast, on their experiences running cash-based physical therapy practices, and their advice to new graduates who might be interested in doing the same.
LeBauer started his cash pay therapy practice right after physical therapy because he wanted to help patients without the hassle of dealing with insurance companies. He then decided to help other physical therapists who, as he puts it, "want to spend more time with their patients and less time on documentation."
He sees part of his mission as expanding access to physical therapy which can prevent unnecessary surgeries, pointing out that up to a hundred million patients will undergo surgery that could have been avoided if they'd had more access to rehabilitative services.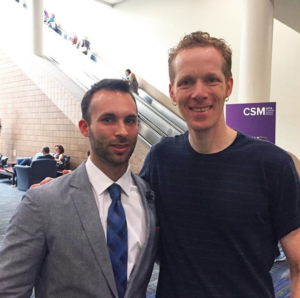 LeBauer's CashPT Blueprint online course walks you through the six most important things everyone should know about starting a cash-based practice. Gonzaba, whose company Physio2Geaux is a mobile physical therapy practice specializing in helping runners and cyclists, credits the CashPT Blueprint course with helping him set up his company, and says the course "gives you all the tools you need to start."
LeBauer points out that as people become more proactive and engaged with their health, they'll start shopping around for the best value from their medical professionals. This allows cash-based practices to provide a better value for their customers.
Gonzaba says the most important thing is to learn to effectively communicate and create buy-in with your clients, as this will dictate the success of your practice. LeBauer points out the broad range of options for new graduates, from online wellness to group and in-home practices, and both agree that "it's a great time to be in physical therapy."
Is Cash pay physical therapy calling you? Check out our article on how to start a cash PT practice!
https://eyesoneyecare.com/resources/cash-pt-practice-work/