Take a second to create a mental image of an athletic trainer (AT).
What setting is he or she working in? What are they doing? Who are they working with?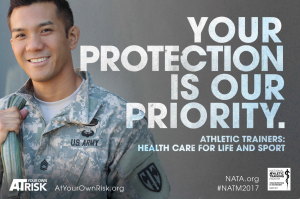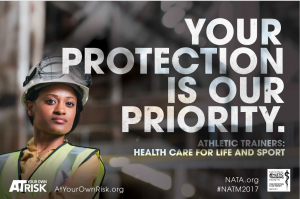 I bet the first thought that came to mind did not involve those pictures. What you may not know, according to the National Athletic Trainers' Association (NATA), is that over 50 percent of athletic trainers actually work outside of the school setting.
Working closely with athletic trainers at the intercollegiate level over the past several months has given me a greater appreciation for the amount of work they do behind the scenes, as well as their integral role in a multidisciplinary healthcare team.
Even then, admittedly, I recently discovered I had my own misconceptions of the athletic training profession when speaking with some of my colleagues.
Although athletic trainers are widely respected as medical professionals in the athletic community, policy makers and the general public tend to be less familiar with the specialized expertise of the field and the rigorous educational standards required to become an athletic trainer.
Each year, the NATA sponsors a national campaign to educate the public on what exactly athletic trainers are and the many services they offer to the public. In honor of March being National Athletic Training Month, I teamed up with some of my AT friends and colleagues to refute common misconceptions about the athletic training profession, highlight their roles as key members of a healthcare team, and discuss future directions pertaining to healthcare reform as it involves a multidisciplinary team.

Let's explode some common myths about athletic trainers
WHO ARE ATHLETIC TRAINERS?
MYTH: Athletic trainers are glorified personal trainers.
FACT: According to the NATA, athletic trainers are healthcare professionals that are clinically and academically qualified to medically treat patients and clients of all ages in any physical setting. Athletic trainers are part of a team of healthcare professionals; they practice under the direction of, and in collaboration with, physicians.
Athletic training is practiced by athletic trainers, and encompasses the prevention, diagnosis, and intervention of emergency, acute, and chronic medical conditions involving impairment, functional limitations, and disabilities. The American Medical Association (AMA), Health Resources Services Administration (HRSA) and the Department of Health and Human Services (HHS) recognize athletic training as an allied health care profession. Athletic trainers should not be confused with personal trainers or "trainers" who focus solely on fitness and conditioning.
__________________
Recently, we were casually talking about the athletic training profession, when she corrected a statement I made regarding educational standards in relation to practice setting. As we delved further into discussion, it became apparent that I wasn't the only one with misconceptions about athletic trainers. I only felt it was most appropriate to interview her, along with some of my other long-time athletic training friends, so that they could not only educate me, but share their experiences and knowledge with you all as well.
PRACTICE SETTING.
MYTH: Athletic trainers only work for sports teams.
FACT: The NATA reports that more than 50 percent of athletic trainers work outside of school settings. These settings include physician offices, rural and urban hospitals, hospital emergency rooms, urgent and ambulatory care centers, military hospitals, physical therapy clinics, secondary schools, colleges/universities, youth leagues, commercial settings, and professional sports teams. Athletic trainers provide services to people of all ages, not just athletes.
__________________
"One common misconception is that athletic trainers are limited to the sidelines and/or the 'traditional athletic setting'. There are a wide variety of job settings and opportunities for ATs to thrive in. Our profession is continuously growing. I think that that ATs will be utilized more and more in many different environments in years to come," said Baker.
"The care that I provide (in the industrial setting) is largely preventative. Our model is based around the concepts of early detection and the prevention of injuries before they become debilitating. I provide job coaching, ergonomic assessment, line-side injury evaluation and treatment under first aid for work related injuries. I have also developed a work conditioning program where new hire associates spend two hours a day with me for two weeks prior to working the production line full time." Baker explains that as part of the work conditioning program, "employees receive corrective exercise strategies that address postural stability, mobility, functional movement, and job specific training."
When asked about the reason for choosing to work in the industrial setting, Baker states, "My father has worked in a factory for the last 27 years and has struggled with chronic injury ever since I can remember. There is an enormous need for athletic trainers in the industrial setting. I get a great deal of satisfaction from helping everyday people. I help people who are just trying to make a living and provide for their families without being in pain."
EDUCATION AND LICENSURE.
MYTH: Athletic training doesn't require much of an education.
FACT: According to the NATA, more than 70 percent of athletic trainers hold at least a master's degree. Currently all certified and/or licensed athletic trainers must have a bachelor's degree from a CAATE-accredited college or university. However, the AT Strategic Alliance announced in 2015 the decision to shift the minimum professional degree level to a master's. According to CAATE, baccalaureate programs may not admit, enroll, or matriculate students into the athletic training program after the start of the fall term 2022.
Upon completion of a CAATE-accredited athletic training education program, students become eligible for national certification by successfully completing the Board of Certification (BOC) examination. 48 states and the District of Columbia require athletic trainers to hold the BOC credential of "Athletic Trainer Certified" (ATC). To retain certification, credential holders must obtain 75 hours of medically related continuing education credits every three years and adhere to Standards of Professional Practice.
Athletic training licensure/regulation exists in 49 states and the District of Columbia. Efforts are underway to add licensure in California. While practice act oversight varies by state, athletic trainers practice under state statutes recognizing them as qualified health care professionals similar to physical therapists, occupational therapists and other health care professionals.
ROLES AND RESPONSIBILITIES OF AN ATHLETIC TRAINER.
MYTH: All athletic trainers do is hand out ice, tape ankles and fill water bottles.
FACT: "Your protection is our priority" is the 2017 NATM slogan and exemplifies the important role athletic trainers play in acute care management and prevention of injuries. As stated in the NATA Key Messages, "Brain and spinal cord injuries and conditions such as heat illness can be life threatening if not recognized and properly managed. Athletic trainers are equipped to treat acute injuries on the spot. Athletic trainers save lives."
Furthermore, recent studies, reports, outcomes measurement surveys, total joint replacement studies and many other case studies demonstrate how the athletic training services save money for employers and improve quality of life for patients. According to one NATA survey, for each $1 invested in preventive care, employers gained up to a $7 return on investment. The use of athletic trainers supports a quality-driven health care economy that increases competition in order to reduce patient and disease costs.
__________________
"My role hasn't changed much (since) moving from the high school setting to the professional setting. I am still providing the same care that I was before. Now I have more resources to use at the professional level and I no longer have to explain to parent's injuries, treatments, and rehabs," said Wiemels.
When asked about what inspired him to pursue a career in athletic training, he explained, "I knew being a professional athlete wasn't really in the cards for me so I decided to find a career where I can work with athletes and still be part of a team. I've always enjoyed helping people so a career in athletic training seemed to be the best option to combine my love of sports and my love of helping people."
"My role as an athletic trainer has really not changed too much since my transition from the professional level to the intercollegiate level. My primary job duties are fairly similar; however, some of my secondary duties have changed quite drastically," explained Oates.
He added, "At the lower levels of professional baseball, I was also responsible for arranging travel, food plans, and per diem for the team I was providing medical supervision for. Since making the transition, these roles have been removed, allowing me to focus on my patient care. Aside from this, there have been some differences in the type of patients I deal with on a daily basis. Professional athletes were always self-motivated and invested due to the fact the game was their livelihood. As I have transitioned to the DIII environment, this has been a bit different as the athletes here often have a number of different goals and motivations, which can vary highly by individual."
Complementary roles of a multidisciplinary healthcare team
Just like any other team, each member of the healthcare team plays a role in maximizing patient care. I was first exposed to the complementary roles of ATs and PTs in an athletic setting in graduate school. I loved working with multiple disciplines, learning from one another, developing professional relationships with team physicians, and having collaborative discussions regarding an athlete's progress.
That experience was partly the driving force to continue working in athletics; you just don't typically see that level of multidisciplinary interaction in many other settings. So it might be understandably difficult for one to appreciate the many benefits of a blended approach to patient care and appropriate utilization of roles.
Athletic trainer, Robbie Oates, had the opportunity to experience this approach to patient care while working in professional baseball.
When asked what value he believed physical therapists bring as a component of a sports medicine team, he said, "I was fortunate enough to be in an environment early in my career where I was around a lot of professionals who had a wealth of knowledge to share. This included those from the physical therapy profession, which my situation allowed for daily interaction with.
In the model we used in professional baseball, we worked very closely with the physical therapist and team physicians to provide care. This allowed for a wonderful marriage of short term and long term care, as well as a smooth transition when athletes got injured, or when they were returning from injury. Personally, I was also able to pick up a number of clinical concepts from our PT co-workers that I was not exposed to during my athletic training education.
The closeness of our medical model really provided a great standard of care, as well as a unique opportunity to grow as a clinician because of the different backgrounds that were present."
Similarly to Robbie, I have also been fortunate enough to continue developing my role as a physical therapist in a collegiate atmosphere that necessitates excellent communication with multiple disciplines.
And they probably deserve more credit than what they are given. I have certainly come to appreciate the amount of work they do behind the scenes, their skill sets, and clinical expertise. It also takes a lot of patience to work with an incoming resident sports physical therapist each year; we all come from different backgrounds.
And in all honesty, I am pretty sure I crashed and burned the first month of residency, when it came to communication and understanding my role. Nonetheless, I would like to think that by keeping an open mind throughout this residency process and being willing to learn from others in addition to educating myself, that I have made great strides in professional development.
Future direction
Allied healthcare professions, such as physical therapy and athletic training, are making significant advancements in professional and educational growth to parallel the evolution of healthcare. Despite many medical professionals reporting an understanding for the importance of establishing a collaborative relationship with multiple disciplines, this blended approach to patient care is still emerging. This can partly be attributed to a lack of knowledge or misunderstanding of roles.
"If you don't know what an athletic trainer does, take to the time to find out. We do a lot of great work that goes unnoticed to those who don't get to see what goes on behind the scenes," said athletic trainer, Joshua Wiemels.
As medical professionals, it is our duty to educate one another, and the general public, about what it is we do and the services we offer. In addition to education, we should strive to implement a collaborative medical model that is suitable for contemporary practice. If you work in an environment that allows for this type of interaction amongst medical professionals, take the opportunity to embrace it.
Don't be so obtuse to only recognize your role. Be progressive in how your role can be complemented by the addition of another.
RESOURCES
For more facts about Athletic Training, please visit NATA.org.