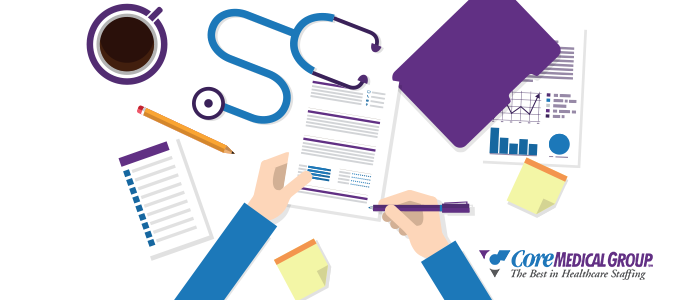 Nursing is an incredibly rewarding career. It can also be an incredibly stressful one. From time to time, every nurse experiences rough days, and no matter what the cause, it can be difficult to take the time for yourself when you're taking care of patients. So here are eight tips for reducing stress for nurses while at work.

1. Get organized. Nothing is worse than that feeling of being completely overwhelmed by responsibilities. It can get to the point where you don't even know where to start, nevermind how to dig out from underneath that pile of tasks. Take a little time before or at the start of each shift to get organized, and if you think you have too much on your plate, ask for help.

2. Breathe. It sounds obvious, but when you find yourself in a stressful situation, it's often the first thing you forget about. Taking a few deep, deliberate breaths can help slow your heart rate and calm your mind, even when you're right in the middle of a stressful situation.

3. Laugh. Laughter really is the best medicine when it comes to reducing stress at work as a nurse. Yes, we know it's cliche, but the relief of laughing about a stressful situation, even if you have no idea what it is that's funny, is wonderfully calming. Sometimes you just get to that point where all you can do is laugh. Embrace it. Don't be embarrassed, it's likely your fellow nurses and even your supervisors—especially your supervisors—have felt the same way.

4. Snack healthy. You can preach healthy eating to your patients until the cows come home, but if you're not following your own advice it can and will contribute to your stress levels. No one knows the true meaning of the word "hangry" like a nurse who is six hours into a 12-hour shift with only vending machine snacks for sustenance. Reduce stress throughout the week by taking some time to plan and pack your meals, and don't forget healthy, protein-packed snacks.

5. Exercise. We know, you barely have time to get dressed before work, nevermind squeezing in a run, but even just taking a short walk on your break, or forcing yourself to take the stairs (when you're not wheeling the med cart around) can help make a difference in your mood.

6. Communicate clearly. According to the American Nurses Association, poor communication is a huge cause of stress in healthcare facilities. Creating clear and open lines of communication can help everyone feel more confident and comfortable. You may not have control over how others communicate to you and to patients, but by making sure that you are being as clear and concise as possible, you can be an example for others.

7. Walk away. If you find yourself in an overly stressful or confrontational situation, give yourself permission to just walk away and take a minute. Nursing can be emotionally draining work, and some times the only way to improve a situation is to remove yourself from it.

8. Talk. Find a trusted friend, colleague, or supervisor and just talk about the things that are stressing you out. Sometimes it's helpful to hit that release valve and just let it all out. The more you talk, the more you may be able to look at the situation from other sides and find the solution you need.