The ability to navigate the rehabilitation billing practices and procedures of the federally regulated Centers of Medicare and Medicaid services (CMS) has never been so important to the profession of physical therapy. Currently, there are approximately 44 million individuals enrolled in Medicare. As the baby boom generation ages, the Medicare population is projected to grow to 79 million by 2030, more than double the year 2000 enrollment. The increase in volume will challenge how the system proceeds to cover physical therapy and billing practices of healthcare practitioners.
In December 1999, the Health Care Financing Administration (HCFA) announced that as of April 1, 2000, the 8 minute rule must be used to bill Medicare beneficiaries for outpatient therapy services, according to Transmittal 747. The system applies to therapeutic services involving direct patient contact from the provider. A unit was re-defined as the number of times the service reported was performed.
Eventually, Transmittal 747 came to be known as Medicare's 8 minute rule.
What is the 8 minute rule? The 8 minute rule is the current procedure for billing physical therapy services to Medicare. The 8 minute rule applies to direct contact therapeutic services in which a PT provides one on one services to a patient for at least eight minutes. Timed CPT codes are broken into units based on time intervals.
A lack of understanding about the 8 minute rule often leads to billing errors which can delay reimbursement, force an audit, and/or lead to underbilling. Because more than one service is often provided in a single physical therapy visit and each service has its own code, it's imperative that a well-understood and well-managed policy concerning the Medicare 8 Minute Rule is in place.
Medicare providers are required to bill Medicare patients according to CMS rules, but Medicare rules do not apply to other insurance policies unless otherwise specified.
The 8 minute rule and Medicare
The 8 minute rule applies to direct contact therapeutic services (requires the one-on-one attendance of the provider). Therefore, for the physical therapist to receive reimbursement from medicare for a time-based CPT code, treatment must be provided for at least eight minutes. For timed CPT codes, coders should bill the appropriate number of units based on the time intervals outlined in the code descriptions. A medical billing "unit" is defined as the number of times the service reported was performed.
Handy 8 minute rule chart
So how do you know how many units to bill? That's where this handy reference chart comes in. Find the total timed number of minutes on the right, and then get the corresponding number of billable units on the left based on that time.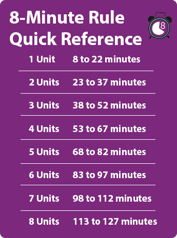 Insurances that follow the 8 minute rule
Every federal payer requires billing by the 8 minute rule. There are some cases where an insurance company will accept billing via SPM, or Substantial Portion Methodology, but the 8 minute rule is the standard in physical therapy billing for timed services.
The sources that require physical therapy be billed according to the 8 minute rule include:
Medicare
Medicaid
Other Federal Payers:

Tricare (Armed Services)
Blue Cross for Federal employees
Champus (veteran's)
OWCP: Office of Worker's Compensation Program, administered by ACS

Medicare Advantage Programs

Medicare Plus Blue
Pyramid Life
Humana (advantage programs)
Aetna Advantage Plans
Current Procedural Terminology (CPT) codes
In order to bill for services rendered by a physical therapist there are individual Current Procedural Terminology (CPT-4) codes that are entered into documentation for reimbursement by third parties including Medicare. These codes were created and are maintained by the American Medical Association (AMA).
As a physical therapist, most of the codes you will use to describe the services and treatments you provide will be found in the 97000 series, the section titled "Physical Medicine and Rehabilitation." Don't limit yourself to that section, though: there are several other CPT codes that describe the kinds of services that PTs provide. Since a provider can bill any code as long as the provider can legally render that service according to state licensure laws, it's crucial that PTs familiarize ourselves with codes outside the 97000 series.
It is important to understand the difference between CPT coding and payment policy. Just because a code exists and is utilized by a provider does not mean that a payer will reimburse for that code.
Time and untimed CPT codes
Un-timed or service based codes can only be billed at one code per service and the time spent does not change the reimbursement. These services do not have to be provided with direct one on one contact.
physical therapy evaluation (97161, 97162, or 97163) or re-evaluation (97164)
hot/cold packs (97010)
electrical stimulation (unattended) (97014)
G0283 Electrical Stimulation, Medicare Non-Wound (Unattended)
Timed codes can be billed based off of variable increments of 15 minutes and must be provided with direct one on one contact.
A single unit of CPT code 97110 or therapeutic exercise can represent 15 minutes of time during a physical therapy session. However, another provider might only provide the same CPT code 97110 for 10 minutes only. The difference arises when multiple codes at different lengths of time are added.
A timed CPT code must last for at least 8 minutes to be considered as one unit of billable services according to the 8 minute rule described above. When billing more than one timed CPT code on a calendar day, the total number of units that providers may bill is constrained by the total treatment time.
Two 8 minute rule billing scenarios
Example 1:
We can take a look at a scenario in which a physical therapist bills according to the individual units versus total time. If the therapist performs 35 minutes of therapeutic exercise and 33 minutes of therapeutic activity but only bills 4 units, they are actually missing out on the benefit of looking at total time. If you add the time for each service, it adds up to 68 minutes for which you can bill five units. (2 units (15 minutes each) for therapeutic exercise and 2 units (15 minutes each) for therapeutic activity). Leaving 5 minutes and 3 minutes left over which adds up to 8 minutes. The larger amount of minutes leftover goes to therapeutic exercise where you can now bill three units of therapeutic exercise and as two units of therapeutic activity.
Example 2:
Say a therapist performs manual therapy for 7 minutes. Manual therapy is a time-based code, but in this case the time is not greater than or equal to 8 minutes. On its own, a therapist would not be able to bill for this treatment. However, if 22 minutes of therapeutic exercise are performed as well then the added time is equal to 29 minutes and can be billed for two units instead of one.
Mixed remainders
Occasionally, timed procedures are not performed uniformly in 15-minute increments as stated in CPT guidelines. As seen above in the billing scenarios, the 8 minute rule comes into action. Mixed remainders come into play when the total treatment time cannot be divided by 15 evenly. If the total of those remaining minutes equals 8 (or more) then you can bill for additional unit of the service (code) with the greatest time.
Example of Mixed Remainders:
Perform Neuromuscular Re-education for 21 minutes and therapeutic activity for 17 minutes
17+21 = 38, 38/15 = 2 with remainder of 8 minutes so this way you can bill 2 units for Neuromuscular Re-education
Using the formula total time / 15 = units and then calculating the remainders allows more accuracy for assigning that extra unit.
The rule of eights
The CPT code manual also outlines a slightly different billing guideline called the rule of eights. Similar to the 8 minute rule, the rule of eights is based off of billable units provided in 15-minute increments. However, the rule does not take into consideration the overall time of all the codes. Instead, the number of billable units is determined separately according to each unique timed code. Consequently, the calculations are performed separately as well.
Example: A therapist bills 22 minutes of gait training as well as 16 minutes of therapeutic activity in an individual visit. Each timed code is looked at separately and are both longer than 8 minutes, allowing the therapist to bill for 2 units.
Flaw: If the therapist were to use the 8 minute rule in this case, they would be allowed to bill 3 units because the overall time is considered (38 minutes and, according to the chart above, 3 units are to be billed).
AMA 8 minute rule
With Medicare's 8 minute rule, your total time dictates how many total units of time-based services (0-7 min = 0 units, 8-22 min =1 unit, 23-37 min = 2 units, etc.). Some non-federally funded insurances use AMA's 8 minute rule (occasionally referred to as the "mid-point rule"). With this format, a unit is attained once the mid-point is passed for each individual CPT code and does not rely on the total treatment time. Each procedure is 15 minutes, but once you hit the mid-point you can bill for a unit. So technically the mid-points would be:
1 unit: 7 min & 31 sec
2 units: 22 min & 31 sec
3 units: 37 min & 31 sec
. . . but since no one keeps track of treatment time down to the seconds, it gets rounded up to 8, 23, 38, etc. The time allotted for each CPT code will now determine how many billable units. Additionally, AMA rules do not allow the therapist to bill for leftover minutes unless that time adds up to 8 minutes.
If we look at the example above, the leftover amount from both timed codes adds up to 8 minutes, which would allow the therapist to bill an additional unit.
Conclusion
For any physical therapist submitting claims to federal payers, understanding the 8 minute rule is crucial. Hopefully, we've helped clear up any confusion you have about when and how to use the 8 minute rule!
Have you run into any interesting cases that have been complicated by the 8 minute rule? Let us know, or ask us your questions in the comments!