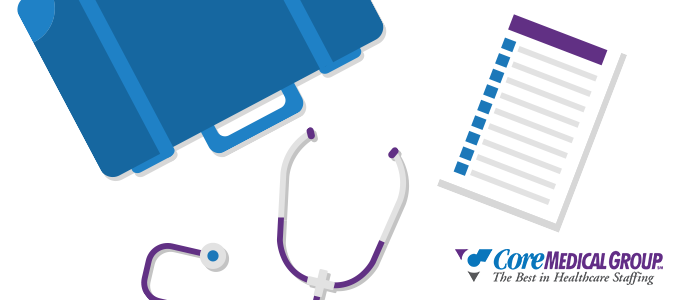 So you're starting a career as a traveling nurse but don't know what to expect? Luckily for you, we spoke with some experienced travel nurses about what they wish they had known before starting their careers.
Here's a list we compiled of 6 of the most important lessons for travel nurses, from travel nurses:
1. Be Confident In Yourself
When you're a travel nurse, you're always joining a new team and some may be more welcoming than others. Be confident in who you are as a professional and don't worry about what other people think. You adjust to it with time. The more assignments you do, the easier it is to go into a new hospital and start all over again with new coworkers.
2. Stay Organized
A lot of paperwork goes into a new assignment and it can seem to add up from assignment to assignment. It is helpful to keep a file of all of your records so that you can stay organized between assignments. Your recruiter should also help you with this process.
One travel nurse we spoke to said, "As annoying as it may be, I just think of the outcome and do what I have to do. Core [Medical] has been really great with keeping everything organized and informing me of everything I need to get done. I've heard nightmare stories about other companies, and I just know that I'm in good hands."
3. Find A Good Recruiter
It's important to find a recruiter who is a good fit for you, and you alone. When you're out traveling, you need to feel like someone has your back so you can be the best nurse you can be.
"I had an assignment that I was not happy in for multiple reasons, I decided I had to talk to my recruiter, I got a great listening ear. It's great to know that you have a company that stands behind you and has resources for you." - CoreMedical Travel Nurse
4. Ask Questions In Your Interviews
Many new travel nurses expect the hospital to ask all of the questions, however it is just as important for you to ask them questions. Have a couple things written down that you would like to know about the facility or the job itself. This helps you make sure this is a place you actually want to work at, and helps to avoid any surprises when you begin a new job.
5. Have a Savings Account
Unfortunately, every once in a while you might come across unexpected expenses. Moving multiple times over can create expenses that you may not have planned for, as can specific requirements at contracts. Vehicle trouble, uniform cost, and parking are all costs that may come up while being in a career as a traveling nurse, so it's good to have a little stashed away, just in case.
6. Flexibility is Key
Every contract is going to be different. The people you work with, the type of environment you're in, and what is expected of you is always going to change. It's important to have the ability to take things as they come and roll with the punches.
If you have any questions that are still unanswered you may find our FAQ section helpful. If you're looking for your next assignment feel free to get in touch with one of our recruiters today.