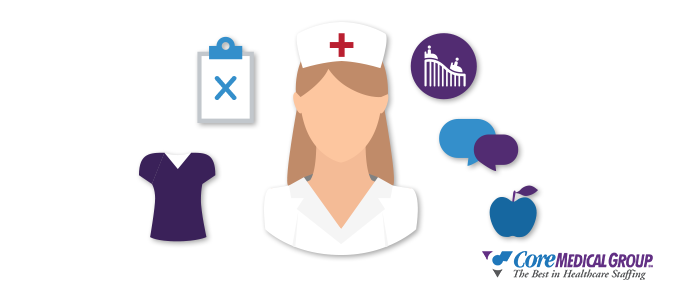 Nursing is an amazing and rewarding career, there's no doubt about that, but we know our nurses have a lot of "they didn't tell me about that in nursing school" stories. We're sure you do too.
Unfortunately, there are a few things you just have to learn on the job, particularly in healthcare. Here are five of the top things you probably wish you'd learned in nursing school:
1. Always keep an extra set of scrubs on hand.
Nursing is a messy business. On any given day there's a decent chance you will end up with something on your scrubs that you don't want to spend the rest of the shift wearing, and you likely won't have the time to run home and change. Keeping an extra set of scrubs in your bag or at the nurses' station can be a real life saver.
2. Make time for food.
Everyone tells you that you'll be busy as a nurse, but you don't really realize how busy it can be until you're halfway through your shift on a packed unit and one of the other nurses calls out sick. Burnout can creep up on you quickly if you don't take time to take care of yourself, and part of that is remembering to eat.
You may not have time to sit down to a leisurely meal, but you need to make time for food. Keeping healthy, protein-packed snacks on hand can help fight off the urge to hit the vending machine (and prevent the inevitable sugar crash after).
3. Your entire family will ask you for medical advice.
The second you become a licensed nurse, your phone will start blowing up with questions from family members and friends who think they might be dying from one mysterious ailment or another. Congratulations, you are officially "the nurse friend" who should know the answer to every query.
How do you handle it? Just don't be afraid to tell your loved ones that they should really talk to their own doctor if they're concerned about something.
4. Everyone makes mistakes.
As a new nurse, it can be easy to feel like you're supposed to know literally everything about nursing—and that's just not possible. One of the most important lessons you'll learn in your first job is that everyone makes mistakes. Another important lesson is this: What you do after the mistake is what will set you apart.
Whatever the mistake is, owning up to it and letting your supervisor know what happened is always the best course of action. You're only human and being a nurse is hard enough, so don't stress yourself out trying to be infallible too.
5. For nurses, the highs are high and the lows are low.
No matter where you're working, the patients you're working with, or the type of facility you're working in, you will likely see a huge variety of conditions and emotions during your shifts. You may be seeing relatively healthy people or those with terminal illnesses. Your patients might be very young or very old. They could be happy, or sad, or angry, or in shock, and that's without factoring in the emotions of patients' families.
Nursing can be a real roller coaster ride of a career. Everyone has good days and bad days, but for nurses, those highs and lows can be really high or really low, and it's hard to prepare for that until you've experienced it.
Be sure to take care of yourself mentally and emotionally, as well as physically. You're doing important work, and sometimes just taking a moment to remember why you do what you do can help through those rough days.
Those are some of our "wish I'd learned that in nursing school" moments. What are yours?