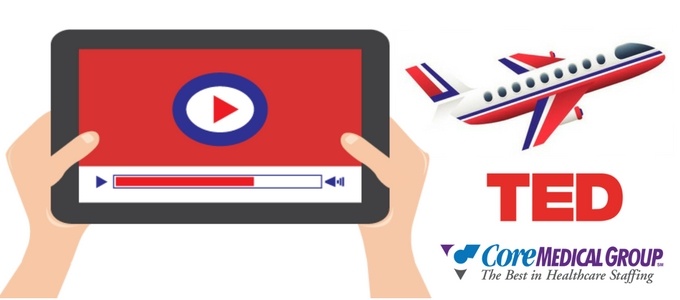 One of the best resources we've found that can spark wanderlust, increase self-awareness, and overall create better-informed and more successful healthcare employees is TED. TED started as a Technology, Entertainment and Design conference and is now described as, "A nonprofit devoted to spreading ideas, usually in the form of short, powerful talks (18 minutes or less)."
With their continued production of TED talk videos containing leaders in fields from science to art and everything inbetween, TED is a resource for many, including those wanting to transform their nursing careers and allied health careers into jobs that travel.
Here are 5 TED talks we've curated to help you fuel a better travel career whether you're interested in travel nursing as an RN or LPN, or you're a PT, OT, or SLP on the hunt for the best travel jobs.
1. Pico Iyer - Where Is Home?
For many with healthcare jobs that travel, the idea of home is a bit bittersweet. Is it where you grew up? Is it where you are on assignment at the moment? Pico Iyer, author of 12 wildly different books including TED Book The Art of Stillness explores the idea of home, the sheer passion involved with traveling, and how to find stillness when it's most needed.
"Nowadays, at least some of us can choose our sense of home, create our sense of community, fashion our sense of self..."

"For more and more of us, home has really less to do with a piece of soil than, you could say, with a piece of soul."
2. Robin Esrock - Learn to Travel, Travel to Learn
Robin Esrock, a travel writer who has been featured in The Globe, MSN, and many other publications explains that after interviewing over 1,700 people from every walk of life in 46 countries, the most common regret was not traveling more. As he shares stories from his travels he offers great snippets of advice. Whether you're a travel nurse in the US or looking at your next trip overseas, Esrock's tips is absolutely essential and achievable.
"We need these kind of wake up calls to remind us that we aren't getting any younger and while the world isn't going anywhere per se, we most certainly are."

"You have to believe that whatever decision you make, is the best decision you could possibly make."

"Before you go on any journey, make sure you pack the right state of mind."
3. Kio Stark - Why You Should Talk to Strangers
When traveling nurses and traveling PTs, OTs, and SLPs move to new locations it can be easy for them slip into homebody mode. You go to work, you go back to your housing, rinse and repeat. Here's a great TED talk from Kio Stark, author of When Strangers Meet to help liberate you from the hermit life and brighten your days with meaningful connections... with strangers.
"When you talk to strangers, you're making beautiful interruptions into the expected narrative of your daily life — and theirs. You're making unexpected connections."

"There are two huge benefits to using our senses instead of our fears. The first one is that it liberates us... The second benefit of using our senses has to do with intimacy - "fleeting intimacy" - a brief experience that has emotional resonance and meaning."
4. Laura Vanderkam: How to Gain Control of Your Free Time
Laura Vanderkam, author of I Know How She Does It about professional women balancing their time with work, speaks to those who always claim they are too busy to enjoy the benefits of free time. After studying what really goes on during 1,001 days of these busy women with time diaries, she shares her findings on free time, prioritizing, and being honest about what important things should get the time they deserve.
If you want to do it, Vanderkam suggests just put it in your schedule! If you want a travel medical job, go get it! Plus, working with a dedicated recruiter can save you even more time by finding you an ideal travel assignment!
"We don't build the lives we want by saving time, we build the lives we want, and then time saves itself."

"We cannot make more time, but time will stretch to accomodate what we choose to put into it."

"Small moments can have great power."
5. Shawn Achor: The Happy Secret to Better Work
CEO of Good Think Inc. and author of The Happiness Advantage, Shawn Achor provides one of the funniest TED talks about positive psychology and its tie-in with professional success. Providing insight on why the traditional formula of success = happiness needs to be flipped on its head, Achor shares just how to rewire your brain for more positive thinking, allowing us to see our full cognitive potential.
"90 percent of your long-term happiness is predicted not by the external world, but by the way your brain processes the world."

"75 percent of job successes are predicted by your optimism levels, your social support, and your ability to see stress as a challenge instead of a threat."

"By doing these activities and by training just like we train our bodies, what we've found is we can reverse the formula for happiness and success, and by doing so, not only create ripples of positivity, but create a real revolution."
We hope you've enjoyed these five TED talks as much as we have, and that you've found some great actionable items to help you start your travel career, or become a better healthcare professional! To learn more about what goes into becoming a travel nurse, download our free guide below!