In 2011, CoreMedical Group helped children from birth to teenagers through donations to Teens For Jeans, Boston Children's Hospital, Ronald McDonald House, and The Stork Project. We also supported the American Red Cross.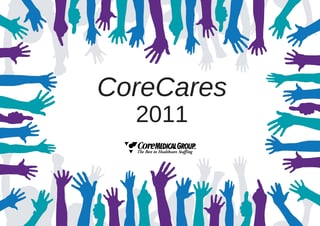 Teens for Jeans
Quarter 1 - January 2011
https://www.dosomething.org/us/campaigns/teens-jeans
Teens for Jeans works with Aeropostale and DOsomething.org to collect jeans for homeless teens across the U.S. and Canada. Some facts about homeless youth: 1 out of every 3 homeless people are under the age of 18, 1.6 to 1.7 million people under 18 will experience homelessness each year, the majority of homeless and runaway youth are between the ages of 15 and 17, however three out of 100 runaways are under the age of 10, and 11 out of 100 are between the ages of 11 and 13.
Ronald McDonald House
Quarter 2 - April 2011
http://rmhc.org
The Ronald McDonald House program provides a home-away-from-home for families so they can stay close by their hospitalized child at little or no cost. Our Houses are built on the simple idea that nothing else should matter when a family is focused on healing their child – not where they can afford to stay, where they will get their next meal or where they will lay their head at night to rest. Families are stronger when they are together, which helps in the healing process. When your child is sick, you want the best care possible - even if it is hundreds or thousands of miles away. The Ronald McDonald House allows families to access specialized medical treatment by providing a place to stay at little or sometimes no cost.
Children's Hospital Boston - In Honor of Evan Lattuca
Quarter 2 - April 2011
http://giving.childrenshospital.org
Recently a member of our CoreMedical Group family's 2-year old son was diagnosed with stage 4 neuroblastoma (cancer). We are all grateful that he is able to be treated by the best at one of the nations best children's hospital, Children's Hospital Boston. Children's Hospital Boston ranks first in more specialties than any other children's hospital in the nation according to the 2010-11 edition of Best Children's Hospitals by U.S. News & World Report. Children's has been ranked first in Heart and Heart Surgery, Neurology and Neurosurgery, Orthopedics, Urology, and Kidney Disorders. Children's Hospital Boston is one of only two hospitals to rank in the top five in all 10 specialties. Children's Hospital Boston ranks: second in Cancer, Urology, Diabetes and Endocrine Disorders; third in Digestive Disorders and Neonatal Care; fourth in Respiratory Disorders; and fifth in Kidney Disorders. Unlike the rankings in previous years, this edition does not rank the overall institutions, instead it identifies and honor roll of the 10 hospitals that rank in all 10 specialties. Since the magazine began ranking hospitals 20 years ago, Children's has always been ranked as one of the top pediatric hospitals in the country. A donation to Children's Hospital Boston helps them care for their young patients and their families, make discoveries that change children's lives, expand their healing reach to urban communities, and educate the next generation of top pediatric physicians and nurses. Every gift, no matter the size, helps them save children's lives. When you give to Children's Hospital Boston you invest in a healthy future. They provide the highest quality care to the most vulnerable among us and discover cures when others can't.
American Red Cross
Quarter3 - July 2011
http://www.redcross.org
Since its founding in 1881 by visionary leader Clara Barton, the American Red Cross has been the nation's premier emergency response organization. Today, in addition to domestic disaster relief, the American Red Cross offers compassionate services in five other areas: community services that help the needy; support and comfort for military members and their families; the collection, processing and distribution of lifesaving blood and blood products; educational programs that promote health and safety; and international relief and development programs.
The Stork Project
Quarter 4 - October 2011
http://www.thestorkproject.org
The Stork Project provides Welcome Bundles that are given to low income new moms by New Hampshire Social Workers. The Social Workers have an established relationship with the mom and the Welcome Bundle is a gift for the new baby. Each Welcome Bundle contains 10-15 of gently worn items of clothing, suitable for a boy or girl, along with booties, hats, socks, and bibs. The items are wrapped in a new blanket or quilt that is made especially for the baby by Project Linus. The clothing is donated by moms who showered their babies with love. When the Welcome Bundle is opened all the love contained in the clothes washes over the new mother and her baby.